Profit-Taking Hits Gold ETFs on Price Spike, Silver's SLV Shrinks 1,000 Tonnes from Peak
Tuesday, 1/14/2020 14:37
GOLD BULLION prices rallied weakly off 7-session lows against the US Dollar on Tuesday, trading at $1543 per ounce – more than 4% below last week's new 7-year high – as the US extended an olive branch to China ahead of signing their 'phase one' trade deal tomorrow.
Washington overnight removed Beijing from its list of "currency manipulators",
cancelling its accusation
that the politburo unfairly depressed the Yuan on the FX market to make China's exports more competitive.
With US Dollar gold prices still rising 2.3% to new 7-year highs so far in 2020, the 5 largest gold-backed ETF products listed in North America, led by the giant GLD and IAU trust funds, have now seen 1.0% liquidation by shareholders.
That profit-taking has pulled the quantity of bullion needed to back those top 5 exchange-traded gold funds down beneath 1,354 tonnes, the smallest since late September
according to data
compiled by the mining industry's World Gold Council.
With gold priced in Euros up 2.6% meantime to new record highs, and
the UK gold price in Pounds per ounce
rising 3.1% from New Year, the top 5 largest gold ETFs listed in Western Europe have held unchanged overall, needing just less than 720 of gold bullion – also held in commercial bank vaults – to back their stock-market value.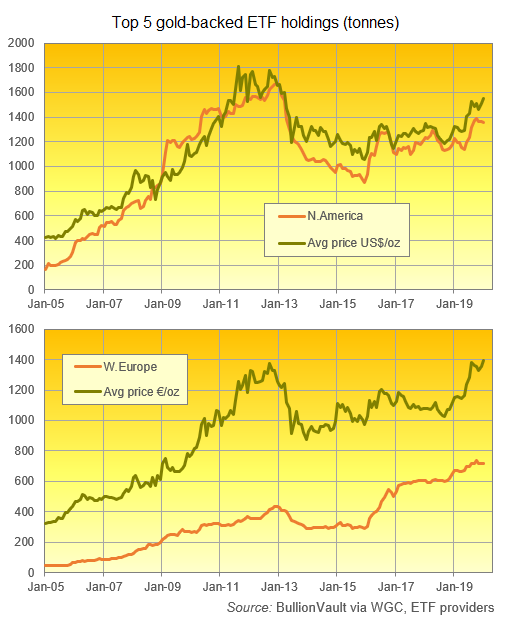 "Positioning and sentiment" are a potential "headwind" for gold prices in 2020, says
a New Year outlook
from strategist Nicky Shiels at Canadian retail, investment and bullion bank Scotia.
"Fast money is well in-the-money," Shiels writes, pointing to short-term ETF traders as well Comex gold futures and options players plus perhaps physical-account holders trading through London - heart of the global bullion market.
For these traders, "Positioning saturation [is] leading to downsizing; however the generalist investor remains largely underweight."
Giant silver-backed ETF the iShares Silver Trust (NYSEArca: SLV) meantime shrank another 0.4% on Monday, its 4th day of liquidation in 8 sessions so far in 2020.
That took the number of SLV shares in issue down to the smallest since July, with outflows of silver bullion from the trust now totalling more than 1,000 tonnes – equal to 15 days global mine production – since the trust's size set a new peak in September.
Now needing 11,063 tonnes of silver bullion to back its value, the SLV ended Monday holding the equivalent of nearly 6 months' global mining output.
The July-to-September period saw a flood of hedge funds and other managed money traders into the SLV, US regulatory filings show, taking institutional ownership of the silver ETF up from 17% at the end of Q2 2019 to 24% of all shares in issue at the end of Q3.
That surge in fund management holdings drove nearly three-fifths of the SLV trust's 19% expansion between end-June and end-September.
The SLV charges its shareholders 0.48% per year in management fees.
On average, both the 5 largest North American
gold-backed ETF trust funds
and their 5 largest European counterparts charge investors 0.31% per year.
Storing and insuring physical bullion owned directly – rather than mediated through a legal trust-fund structure –
runs as cheap as 0.12%
for private investors.
Back in Tuesday's action,
silver prices
rallied in London trade from an overnight drop to the lowest since Christmas Eve at $17.69 per ounce.
Major government bond prices edged higher, nudging 10-year German Bund rates down to -0.18% and keeping the rate offered to new buyers of 10-year US Treasury debt at 1.84%, right in line with its average of the last 3 months.
World stock markets were mixed, with Asian and European exchanges split between gains and losses, after the MSCI ACWI index closed Monday at a fresh all-time high, gaining 1.4% for 2020 to date in US Dollar terms.