London Gold Bullion Volumes Rising, China GDP Hit by nCoV, Crude Oil Bounces
Tuesday, 2/11/2020 15:35
GOLD BULLION held flat Tuesday in London, trading at $1570 per ounce as world stock markets extended their gains despite the spread of novel coronavirus denting economic activity in China, with authorities there warning the disease can incubate for up to 24 days.
While Japan's bourses stayed closed for National Day, all Asian markets rose, followed by Europe with a 0.8% rise to fresh all-time highs on the EuroStoxx 600 index.
Bond prices meantime slipped, edging longer-term interest rates higher ahead of Federal Reserve chief Jerome Powell giving twice-annual testimony on the Fed's monetary policy to US lawmakers.
"Flat GDP is
already ancient history
" in the UK, says
The Daily Telegraph
of today's new data from the world's No.5 national economy, pointing to what it expects will be big-spending "largesse" from the pro-Brexit government of Boris Johnson in its first post-election Budget, now scheduled for 11 March.
Johnson today confirmed the UK will
go ahead with its controversial HS2 rail-line
, aimed at cutting 20 minutes off the journey time from London to second city Birmingham, halving the time to Manchester, and already projected to cost 3 times its original estimate of a decade ago.
Showing zero growth in the last quarter of 2019, the UK economy expanded by 1.1% across the year as a whole,
matching its slowest pace
since the global recession of 2009.
Today's official UK data releases also included international trade figures excluding gold bullion, a so-called "erratic" and "distorting" item, following a decision by the Office for National Statistics.
Over the last 2 years, gold bullion accounted for 7.0% of all UK imports of goods by value, and 5.9% of all exports according to source data from the HMRC tax authorities.
Gold trading through London grew 8.1% by volume last week according to separate figures provided by the
LBMA-i
project of trading exchange and data specialists Nasdaq, expanding as bullion prices slipped 0.8% to
snap 8 weeks of gains
.
Running ahead of the New Year's move in prices, physical bullion volumes doubled at the start of 2020 as this chart shows, published with
permission of Nasdaq
, when bullion jumped first on the US assassination of Iranian commander Qassem Soleimani and then amid fear of slower economic growth thanks to 2019-nCoV.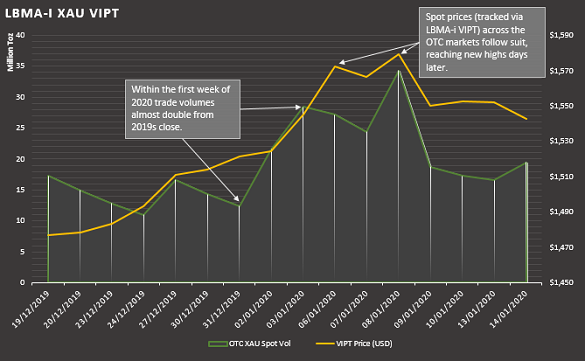 With traffic levels in major Chinese cities
still way below average
as workers continue to stay home, Shanghai gold premiums, over and above London prices, today held at $1.65 per ounce, barely one-fifth the typical incentive for new imports into gold's No.1 consumer market.
China's extended Lunar New Year shutdown to try and stem the spread of the virus could knock one percentage point off 2020's GDP, a government analyst said today.
Brent crude oil meantime bounced over 2% this morning from Monday's new 13-month lows, hit after the Opec cartel of producer nations failed to call an emergency meeting on cutting output still further.
"You have to accept
we will need some friction
," said the UK government's Michael Gove overnight, telling business leaders that borders checks on incoming good "is an inevitability of our departure" from the European Union.
Unless the UK government makes a "massive upgrade" to border checkpoints, consumers "will see
significant disruption
, particularly in the availability of fresh fruit and vegetables," when the country formally quits the European Union at the end of 2020 says the British Retail Consortium.
"No one can really claim to be surprised," writes Richard North, long-time Brexit campaigner and blogger.
"Ever since Theresa May's Lancaster House speech, when she committed us to dropping out of the Single Market,
this was on the cards
."
Including all gold flows, very little of which come or go via EU states, the UK's total 2019 trade deficit in goods reached not £137bn but £175bn (US$223bn), thanks to a strong net inflow of bullion to London's specialist vaults, heart of the gold market's trading and shipping network.
The Euro gold price meanwhile edged up to €1437 per ounce, extending last week's rise to the highest Friday finish in history ahead of this coming Friday's 2019 GDP revisions for the 19-nation currency union.