Gold Bullion +40% Under Obama, Quiet as Trump Sworn In
Friday, 1/20/2017 14:24
GOLD BULLION headed for a small weekly gain in quiet trade versus most major currencies on Friday, ticking back abover $1200 per ounce against the Dollar as billionaire celebrity businessman Donald Trump prepared to be sworn in as the 44th President of the United States.
World stock markets were also quiet ahead of Trump's inauguration, and the Euro was little changed on the forex market, holding 3 cents above December's 14-year lows at $1.03 versus the Dollar.
US government bonds slipped again in price however, nudging
10-year Treasury yields
up to their highest in 2017 so far at 2.48% – almost exactly where they stood when Barack Obama was inaugurated at the start of 2009.
The S&P500 index of US-listed corporations has risen 180%, not including dividends, while the US Dollar has risen 13% against a basket of the world's other major currencies.
Gold bullion has risen over 40%.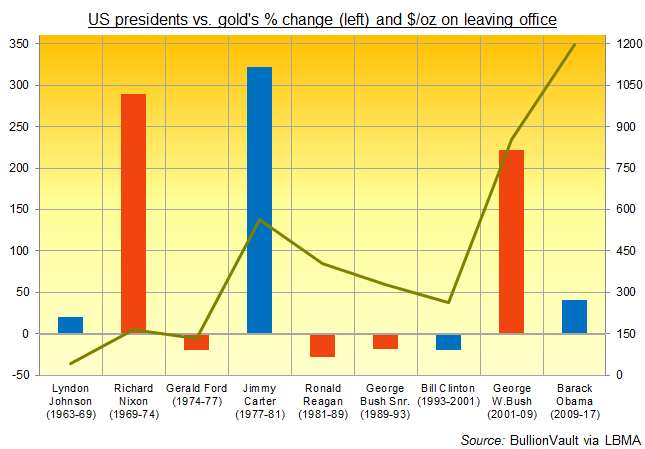 "The Dollar will gain and bullion will once again be under pressure, along with the rest of the precious metals complex...[unless] we get any of the campaign-trail divisive rhetoric.
"That's probably going to sink the reflationary trade and boost gold as a safe haven."
Looking futher ahead in 2017, "[We] stick with
our Icarus Trade view
," says a note from Bank of America-Merrill Lynch, pointing to equities and other assets recently soaring in price, "[with] any Jan/Feb wobble followed by one last 10% melt-up in stocks & commodities.
"[But] investor 'hubris' [will then] signal the 'Big Top'."
Europe's Brent crude oil price benchmark today rose near $55 per barrel, more than double the "twelve-year low of $27 hit a year ago today," notes the commodities team at German financial services group Commerzbank.
"One key role in this has been played by the production cuts" from oil cartel Opec, "yet it is too early to judge if [they] and a number of non-Opec countries [will now] reduce their output as agreed."
Copper slipped Friday however, dropping over 3% from last week's return to December's 18-month highs but
still one-third above
January 2016's seven-year low.
Gold meantime ended the week dead-flat in Shanghai versus the Yuan,
fixing at ¥292 per gram
but cutting the premium for bullion landed in the world's No.1 consumer market to just $10 per ounce over London quotes.
That was well below last month's 3-year peak of $40 – some 16 times the typical Shanghai gold bullion premium – when stockpiling ahead of the coming Lunar New Year's retail demand
met tighter import licensing by Beijing
.
Now the No.2 consumer nation, India this week saw
premiums recover to $2 per ounce
according to dealers, inclusive of the country's 10% import duty, amid the current wedding season on Hindu calendars.
"Buyers are anticipating a cut in import duty in the [February 1st] budget," Reuters quotes Chennai wholesaler MNC Bullion's Daman Prakash.
"That is prompting them to delay purchases."