Gold Bars Near Highest Weekend Price in 7 as Bonds and Stocks Also Gain On Back of 2019 Rate Cuts
Friday, 12/20/2019 14:57
GOLD BARS traded in London's wholesale market edged above $1480 per ounce on Friday, heading for the highest weekly finish in 6 as Western stock markets rose alongside longer-term interest rates.
Industrial commodity prices also rose as the US Dollar slipped on the FX market after new data missed analyst forecasts by confirming that the world's largest economy grew by 2.1% in the year to October, just below its average pace of the last decade.
Ten-year US Treasury yields today tose to 1.93% – their highest level since early November, while the price of large wholesale gold bullion bars today showed a 0.3% gain from last weekend in US Dollar terms.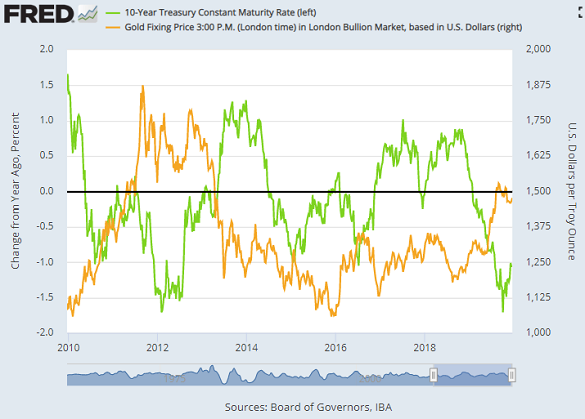 "What was exceptional this year," says a 2019 review from French bullion bank Natixis, "was that the excellent showing by risky assets [such as stocks and high-yield debt] coincided with what were also very significant performances by [government] bonds.
"The main reason for this clean sweep was of course the broad-based (some will say synchronised) swing back to a dovish stance by central banks at the initiative of the Federal Reserve."
"Key factors to watch for gold next year," reckons bullion market-making bank Standard Chartered's analyst Suki Cooper, "will be the second phase of the US-China trade negotiations, the US election [and] global monetary policy.
Together those factor expose gold prices "to further upside in 2020."
Even with the US and China agreeing a 'Phase 1' trade deal this week, analysis from Bloomberg reckons that the
tariffs still in place
could knock $316bn off US economic output in 2020.
The largest gold-backed investment ETF, the giant SPDR Gold Trust (NYSEArca: GLD) meantime headed Friday for a weekly outflow of 0.3% after recovering from Wednesday's drop to the smallest size in 3 months.
That left the GLD needing 883 tonnes of bullion bars to back its shares in issue, up 12.2% from last New Year's Eve.
The Shanghai Futures Exchange today
launched gold price options contracts
, giving miners and bullion traders in China – the metal's No.1 miner, importer and consumer – the opportunity to hedge or speculate on gold with extra leverage.
China's wholesale physical gold market today saw bullion prices close 1.3% higher from last Friday, holding the Shanghai premium – over and above comparable London quotes – around $6 per ounce, the same incentive offered to new imports last week.
Here in London, and with an 80-seat majority in the House of Commons, the UK's re-elected Conservative Government today won approval from MPs for exiting the European Union on 31 January with Prime Minister Boris Johnson's revised Withdrawal Agreement by 124 votes.
A day after the Bank of England kept interest rates below the pace of inflation for the 116th month in the last 135, Johnson's team also today appointed City regulator the FCA's head Andrew Bailey as Governor of the central bank.
"What did the British public do to deserve this?" asks one UK financial services provider, highlighting
the FCA's woeful record
of failing to prevent or punish scams, fraud and illegal trading under Bailey's leadership.
UK gold priced in Pounds per ounce
traded at its highest weekly close in 4 at £1134, up nearly £50 per ounce from last week's spike down to 6-month lows on news of Johnson's election win.
Like the Dollar price, Euro gold bullion meantime headed for its best Friday finish in 7, trading at €1334.