Gold Erases Last Week's 1.3% Gain, Silver Follows, Goldman Sachs Sees $1050 End-Year, Speculators "Stretched"
Monday, 7/14/2014 13:26
GOLD and SILVER prices both erased last week's 1.3% gains Monday morning in London, falling hard as world stockmarkets rose.
Commodity prices slipped again, extending July's drop to 3.5% so far, despite fresh missile and rocket exchanges between Israel and Gaza.
Latest data from US regulator the CFTC says speculative traders grew their net bullish betting on gold futures and options to an 18-month high last week, equal to some 580 tonnes.
That compares to a 2013 average of 313 tonnes, and a 2014 average so far of 375 tonnes.
Speculative bets on silver, net of bearish contracts, meantime grew last week to the largest level since October 2010.
Equal to almost 7,700 tonnes of silver, the net spec long position has expanded a record $5.4 billion by value over the last 5 weeks.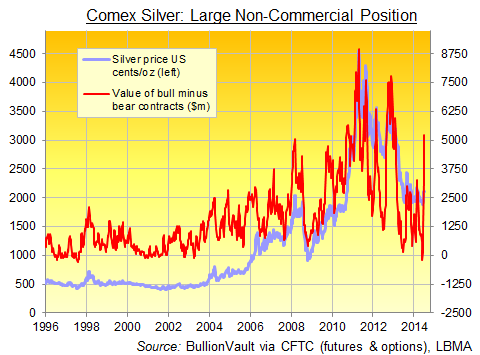 "Some people are moving into inflationary hedge assets," says Jeffrey Currie, global research chief in commodities at US investment bank Goldman Sachs.
"[But] gold prices will start moving lower once there is more confidence in the recovery, without significant inflationary concerns."
Currie sees gold prices ending 2014 at $1050 per ounce – beneath the 3-year lows hit in 2013.
His counterpart at French investment bank and London bullion market maker Societe Generale, Michael Haigh forecasts an average Q4 price of $1245.
"We maintain a declining price profile for the next 5 quarters," says US investment bank Morgan Stanley, forecasting an average gold price between July and Christmas 2014 of $1238 per ounce, with the 2015 average standing at last year's spot low of $1180.
"However, we remain cognizant of some key factors that could support the gold price...[namely] geopolitical instability and...views over the timing of the US interest rate tightening cycle."
"With fund positioning so overstretched on the long side," Bloomberg quotes Mumbai analyst Abhishek Chinchalkar at AnandRathi Commodities Ltd, "gold prices will be vulnerable to a severe pullback in case Yellen's remarks to Congress are not deemed as being dovish."
US Fed chairwoman Janet Yellen begins two-day testimony to Congress on Tuesday.
"Fed Chair Yellen's monetary policy update tomorrow could prove a tester for the Treasury market bulls," adds Standard Bank's currency strategist Steven Barrow. "But we think they will come through unscathed."
Gold prices on the Shanghai Gold Exchange meantime closed Monday 1.5% lower from last week's near 4-month highs, extending Chinese discounts below London quotes to more than $2 per ounce.
A small rally in the Euro currency pushed gold prices for French, German and Italian investors almost 1.8% lower from Friday's 17-week closing high, dropping nearly the last fortnight's gains to trade back at €966 per ounce.
Portuguese government bond today prices ticked higher, taking 10-year yields lower from last week's jump to 4%, as the country's largest bank worked to resolve debt and management problems sparking a collapse in its shares.
Shares in Banco Espirito Sancto (ELI:BES)
lost a further 8% in Lisbon
however, extending its drop over the last 5 weeks to three-fifths.
European Central Bank chief Mario Draghi makes his quarterly presentation tonight to the European Parliament.
Draghi may give details of the ECB's latest "long term refinancing" offer to commercial banks, expected to lend €1 trillion at very low rates.
Silver prices for Euro investors fell 1.9% to €15.47 per ounce, a two-session low.