Gold Bars Drop $10 Per Ounce as US Bond Yields Rise on 2019's $1 Trillion Deficit
Tuesday, 7/16/2019 14:16
GOLD BARS traded in London's wholesale market fell Tuesday lunchtime to the bottom of the $10 range seen so far this week, dropping to $1408 per ounce as European stock markets rose but US Treasury bonds fell, edging yields higher.
The EuroStoxx 600 index rose 0.3% to a 1-week high but New York futures gave back earlier gains as J.P.Morgan – the No.1 US bank by size of assets – reported better-than-expected Q2 earnings following Monday's underwhelming report from Citigroup (NYSE: C).
With Donald Trump's White House now projecting a $1 trillion deficit between revenue and spending for 2019, Washington's borrowing costs rose across the board, with 10-year yields hitting their highest in a month at 2.14% per annum.
Adjusted for inflation expectations, 10-year US Treasury yields have gone in the opposite direction to gold prices 61% of the time over the last 10 years on a weekly basis.
That has risen to 75% of the time so far in 2019.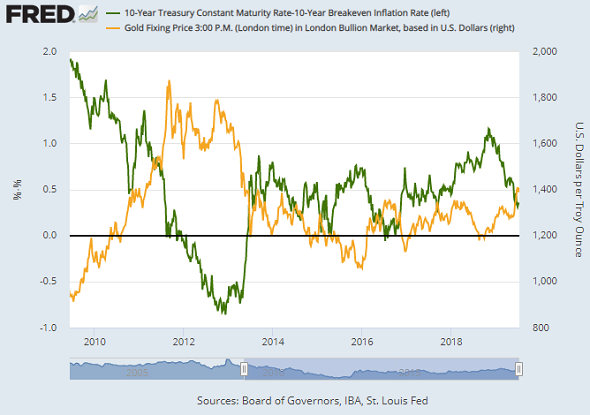 After Federal Reserve chair Jerome Powell last week said a cut to overnight interest rates is all but certain at the 31 July meeting, "Looser monetary policy
should be supportive
of a higher gold price," says the latest analysis for German precious-metals refining group Heraeus from consultants SFA Oxford.
"With short-term Treasury yields well below the Fed's target rate, a cut is inevitable. Inflation is clearly not running hot either, easing to 1.6% in June.
"So the Fed will make a 25-basis point cut and call it pre-emptive to keep the economic expansion going."
China's benchmark gold bar prices also held tight overnight,
fixing at ¥315 per gram
– a new 6-year high when first reached in late June.
That held the Shanghai premium, effectively an incentive for shipping gold bars from London to the metal's No.1 consumer market of China, just below $13 per ounce, some 40% above typical levels.
Hong Kong's stock market rose Tuesday for the 5th session running, erasing the previous 2 days' slump despite ongoing tension after the weekend's march against the now abandoned extradition bill ended in
violent clashes with police at a high-end shopping mall
in the city's northern district of Shatin, on the Chinese mainland.
Euro gold prices meantime fell back from their 10th attempt to break and hold above €1260 of the last 3 weeks, while
the UK gold bar price in Pounds per ounce
came within 85 pence of setting a new 8-year high, rising towards £1140 for only the fifth time ever.
Dominating US headlines despite that news of 2019's $1 trillion budget deficit, Donald Trump meantime continued his Twitter attack on four Democrat women of color in the Senate, accusing them variously of being anti-American socialists and communists, while Somali-born Ilhan Omar apparently "hates Israel, hates Jews, it's very simple" according to the President.