Gold Bars Mark Strongest Half-Year Since 2016 as 'Worst Still to Come' in Covid Crisis
Tuesday, 6/30/2020 14:36
GOLD BARS
traded in London's professional wholesale market rose against a rising Dollar on Tuesday, marking the last day of June with the strongest half-year price gains since the start of 2016 as Japanese, European and US politicians lambasted the Chinese regime in Beijing for imposing its 'national security law' on the formerly "autonomous" city of Hong Kong, and new Covid-19 infections in the United States showed yet another surge.
Within hours of Beijing's move the pro-democracy group Demosisto, led by activist Joshua Wong,
disbanded itself
.
"Wear. A. Mask." tweeted New York mayor Andrew Cuomo meanwhile,
posting a chart
contrasting the retreat in new Covid cases across the European Union with the now markedly higher "second wave" hitting the USA.
The most active gold futures contracts on New York's Comex exchange today broke above $1800 per ounce for the first time since late 2011, topping the October 2012 peak by a little over $5.
Despite the new record highs in US tech stocks since
March's Covid Crash
, global equities began Tuesday showing 8.3% half-year losses on the MSCI World Index.
Crude oil prices have sunk by one-third, copper is down 2.0%, but silver bullion popped higher as gold rose today, showing a 2.0% gain from New Year at $18.20 per ounce.
Gold bullion bars in contrast have risen more than 16.8% in US Dollar and Euro terms, and gained 25.0% against the British Pound.
Trading at $1785 Tuesday afternoon in London's spot market – $5 per ounce above last Wednesday's 8-year high – large gold bars today rose to €1599 and £1446 in Euro and Sterling terms.
That put gold for Euro and UK investors 3.1% and 1.1% respectively below the precious metal's new all-time record highs of mid-May 2020.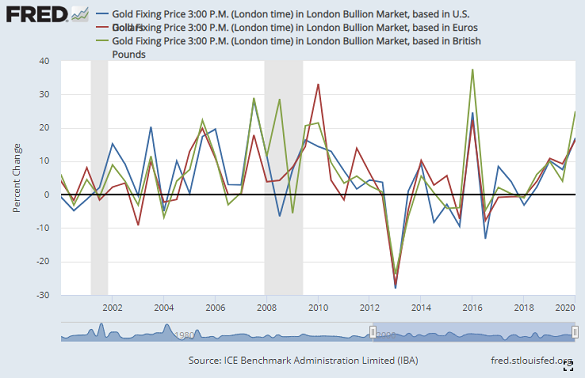 Major government bond prices have also leapt in the first-half of 2020, driving the yield offered to investors sharply lower.
Since New Year's eve, annual rates offered by 10-year US Treasury bonds have sunk by 1.28 percentage points, very nearly matching the plunge of H2 2011, which saw gold set its current US Dollar record of $1920.
But despite the economic catastrophe caused by the Coronavirus pandemic and the 'lockdown' orders imposed by governments everywhere to try to contain it, the cut to longer-term interest rates in H1 2020 has lagged the 1.74 drop of H2 2008, when the collapse of Lehman Brothers marked the panic phase of the global financial crisis.
"The tussle between recovering economic data and anxiety over ever-rising Covid-19 cases continues to play out across markets as quarter end approaches," says Swiss refining and finance group MKS Pamp in a trading note.
Yesterday's warning from World Health Organization chief Tedros Adhanom Ghebreyesus that "
the worst is yet to come
" is now "fuelling safe-haven demand" for gold bars, says MKS.
"We all want this to be over," the WHO's director general said Monday. "We all want to get on with our lives. But the hard reality is this is not even close to being over...Globally the pandemic is actually speeding up."
Trump personally, repeatedly and "slavishly [sought] approval" from Russia's President Putin according to un-named "insiders" quoted in what CNN calls a "jaw-dropping report" on phonecalls made from the White House since the celebrity real-estate mogul won the 2016 election.
The report also claims Trump pulled American forces out of Syria at the direct "urging" of Turkey's President Erdogan – leaving the US' former Kurdish allies open to "slaughter" by Ankara's military – while also "bullying almost sadistically" the female leaders of key allies Germany and the UK, formerly led by Theresa May.
Now a backbench MP in Westminster, May today demanded to know why the Government of her Conservative Party successor Boris Johnson yesterday named trade diplomat Sir David Frost as National Security Advisor, "a political appointee with
no proven expertise in the field
."
A day after Johnson's Government marked the 10th anniversary of his key ally Michael Gove cancelling £1bn in education spending by
promising a new £1bn in additional spending
, "We will not
cheesepare
our way out of this [Covid] crisis," the Prime Minister said in a speech today, standing at a lecturn marked
"Build, Build, Build"
and pledging £5bn in infrastructure spending over the next 10 years.
The UK Government borrowed almost 3 times that much in just 3 days of new debt auctions last week.
"I think one of the lessons of the last economic expansion," says the Bank of Spain's chief economist Oscar Arce, urging fiscal and economic reforms within the Eurozone's fourth largest member state, "is that the capital markets tolerate relatively high levels of debt better if the country in question demonstrates a relatively high potential for growth."
While Spain's Q1 GDP drop was today confirmed at 5.2% per year, the steepest in history, the UK's performance for the eve of its Covid Shutdown was revised downwards to a drop of 1.7%.
Inflation across the 19-nation Eurozone held at 0.8% per year this month on the 'core' measure excluding fuel and food, Eurostat estimated today.
Now gaining for 4 consecutive half-year periods, the price of
gold bullion bars
in US Dollar terms has now risen for its longest stretch since the run of 8 such periods ending H2 2012, just before gold fell 28.1% over the first 6 months of 2013, its worst half-annual drop in history.
"We understood that
Hong Kong's way of life
would be maintained," said Japanese Ambassador to the EU Kazuo Kodama today.
"[Beijing promised] liberalism and independence of judiciary would be maintained, as well as freedom of speech and [the] press as these values are protected in the US, Europe and Japan.
"We are seriously concerned about China's actions in Hong Kong."
"We
deplore the decision
," added European Union council president Charles Michel, while Dominic Raab – foreign secretary for the UK, which owned Hong Kong until 1997 and agreed the now redundant "one country, two systems" policy with Beijing – called China's imposition of the new rules on Britain's former colony a "grave step".