Gold Splits from Silver, Ratio Gains Before French Election But GLD Shrinks, 'Safe Haven' Demand Lacking
Friday, 4/21/2017 13:51
GOLD PRICES spiked to a 2-day high of $1286 lunchtime Friday in London, but silver slipped below $18 per ounce as world stock markets rose and commodity prices held steady.
Since last Friday's finish, gold in Dollars has trimmed 15% off last week's strong $33 advance to the highest level in 5 months.
Silver prices have lost all of last week's 3.1% gains in contrast, retreating to levels seen 10 weeks ago.
Today that pushed the Gold/Silver Ratio of the two precious metals' prices up near its highest levels of 2017 so far, with one ounce of gold worth more than 71 ounces of silver.
The Gold/Silver Ratio has averaged 62 over the last 10 years on a daily basis.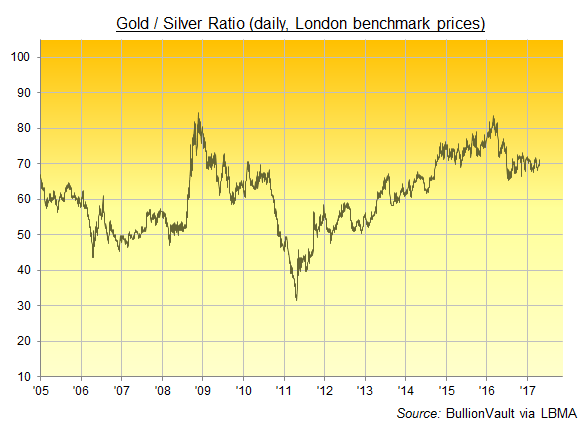 Still beating gold year-to-date, silver prices have been "assisted by a weaker Dollar and weaker [interest] rates," says a note from former London bullion market-maker Barclays, warning that Comex
futures positioning looks over-extended
and could point to a sharp retreat ahead.
Physical silver held to back the value of shares in the giant SLV exchange-traded fund ended Thursday at 10,149 tonnes, near a 12-month lows.
"Gold remains supported by elevated investor risk-awareness in view of the full near-term political events agenda," says a note from Swiss private bank Julius Baer.
But the giant GLD gold ETF yesterday reversed half of
Wednesday's strong inflows
of investor cash, shedding 6.5 of the near-12 extra tonnes needed to back the trust fund's value.
Strong gold demand on South Korea's official exchange the KRX – apparently driven by the risk of conflict between the US and neighboring Communist dictatorship North Korea – is in fact coming from retailers stockpiling supplies before next month's wedding season, says a note from specialist analysts Thomson Reuters GFMS.
"Most of the selling this month has been conducted by individual investors...choosing to take advantage of the recent price spikes to book a profit."
Shanghai gold prices meantime closed Friday almost 1% below Monday's spike to new 5-month highs in Yuan terms, with the Dollar-equivalent premium over London quotes extending its longest stretch below $10 per ounce since the Chinese New Year at end-January.
Launched 12 months ago this week, the Shanghai Gold Fix benchmark has shown an average $12.80 incentive to new bullion imports into the world's No.1 consumer nation so far in 2017.
"If the anti-establishment candidates already do significantly better," says a note from German finance group Commerzbank looking at this weekend's first round of the French presidential election, "this could trigger...considerable [gold] demand as a safe haven."
But "I would rather sell a rally on gold in the wake of a shock result in France," says a trading note from David Govett at brokers Marex Spectron in London.
"Concentrate on trading the euro instead. It is the currency that will suffer most from a Le Pen win."
Gold priced in the single-currency Euro crept back up towards €1200 per ounce on Friday, halving last week's 2.6% gain to the highest level since August.
UK Pound prices meantime rose back above £1000 as Sterling fell hard after news of a shock drop in UK retail sales between January and March, the first quarter-on-quarter drop since 2013.