Gold Prices Firm Near "Long-Term Downtrend", Analysts See "Fresh Longs" in Futures Market But ETFs Shrink
Monday, 6/23/2014 15:40
GOLD PRICES held firm near last week's closing level Monday in London, touching $1315 per ounce as world stock markets ticked lower despite the strongest Chinese manufacturing data in 6 months.
Crude oil fell sharply as Iraqi troops said they'd regained control of border crossings to Syria and Jordan from Sunni militants.
Both the AM and PM London Gold Fixes – the single price which matches the largest volume of bullion-bank orders at 10.30 and then 3pm – today came in at 10 week highs.
Silver held firm with gold prices, touching $20.90 per ounce – a three-year low when first breached by the spring 2013 crash.
As Friday's close marked gold's strongest weekly jump since March, latest data released by US regulator the CFTC showed speculative traders in gold futures and options cutting their bearish bets to 1-month lows and raising their bullish bets to 1-month highs in the week to last Wednesday.
That day saw US Federal Reserve chair Janet Yellen repeat that Dollar interest rates will be kept at 0% well into 2015, and
will stay low long after that
.
Thursday's gold price surge means "net long positions" held by hedge funds and other speculators "are likely to be significantly higher by now," reckons the commodities team at Commerzbank in Germany.
The precious metals desk at Standard Bank in London agrees, saying the CFTC data "confirm that spec short covering started to emerge last Tuesday. [So] taking into account the $40 move on Thursday, that means fresh longs jumping in."
Technical analysis of the gold price is also "of interest", Standard Bank adds, because "gold is testing trendline resistance going back to October 2012 – and a break through would get momentum traders even more excited."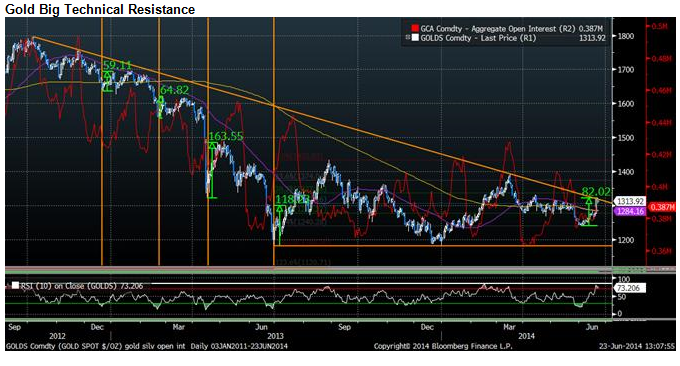 Hitting almost $1325 per ounce in last Thursday's surge, agrees Japanese trading house Mitsui, the gold price "stopped just short of trend line resistance on the weekly chart that extends back to October 2012."
The speed of last week's price jump means "some shorts have most likely been cleared out," Mitsui goes on. So "there may be a chance for gold to weaken and consolidate."
Indeed, "The bias remains for weaker gold prices," reckons ANZ Bank, pointing to "little physical interest from China and investor holdings equally lacking direction."
Exchange-traded trust funds backed by gold last week shed 5.5 tonnes of metal, taking the giant SPDR Gold Trust (NYSEARCA:GLD) nearing May's 5.5-year lows with 782 tonnes of
gold bullion
– down over 40% from the record levels of late 2012.
Silver ETFs also shed metal as prices jumped last week, losing some 60 tonnes – and reaching the lowest level since late April, according to data from Japanese conglomerate Mitsubishi's weekly precious metals note – as investors exited the trusts.
"We expect to see gold roll back a good portion of Thursday's gains," says a US broker's note, "especially if the geopolitical headlines do not deteriorate significantly."
"Without strong demand," Reuters quotes a Hong Kong trader, "either from the physical markets or from exchange-traded funds, the gold rally is not going to last."
Shanghai gold prices rose sharply Monday however, flipping from a $1.80 discount per ounce to a premium of $1.40 over and above comparable London quotes.