Gold Price $1970 Still $50 Too Rich for China as Decoupling and DCS Drive Yuan Higher
Tuesday, 9/15/2020 14:35
GOLD PRICES rose to $1970 per ounce for the first time in a week on Tuesday, trading $100 below August's new all-time high as the Dollar fell ahead of of tomorrow's US Fed policy decision and the Yuan jumped after stronger than expected Chinese data, writes Adrian Ash at BullionVault.
Official statistics from Beijing said the world's most populous nation – source of the Covid-19 pandemic, and where officials today claimed
mass vaccinations may begin in November
– saw retail sales and industrial output both rise year-on-year in August, with business investment in fixed assets like machinery and factories shrinking just 0.3% against the 1.6% decline forecast by analysts.
With the US now reporting a retreat in its 'second wave' of daily infections, the Federal Reserve is set to share its latest economic projections in Wednesday's policy update.
Asian and European stock markets rose after the US tech-stock Nasdaq recovered more of last week's 10% plunge, while major government bond yields also crept higher as crude oil reversed an earlier drop after a new report said global energy demand is rising as the northern hemisphere's return to school and work sees people using private cars rather than public transport.
Even though Chinese gold prices also rose, up 0.3% to a 2-week high of ¥417 per gram at the
benchmark Shanghai Gold Fix
, that still left bullion landed inside gold's No.1 consumer nation at a $53 discount per ounce to London quotes, signalling a continued glut of supply over demand.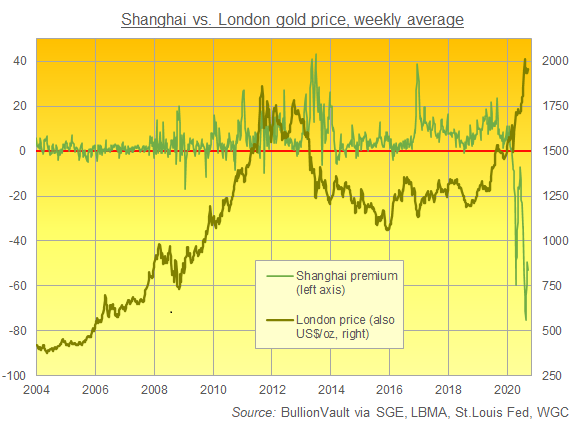 "Dual circulation and US-China decoupling are
two reasons to strengthen the Yuan
," says an op-ed column from London-based analyst Neal Kimberly for the
South China Morning Post
.
Weaker US demand for Chinese goods – a key plank of US President Trump's economic strategy and re-election campaign – "will mean less pressure on the Yuan to remain competitive against the Dollar," Kimberly writes, while Beijing's new domestic stimulus "will also require a lot of raw materials priced in US Dollars.
"They will be cheaper if the Chinese currency is stronger."
Having repeatedly called on the US Fed to slash rates and inflate the money supply like he believes the People's Bank has, US President Trump said on Labor Day last week that "We're being ripped off by [many] countries, but
nobody's even close to China
.
"If Biden wins [the November US election] China wins, because China will own this country," Trump claimed, calling his Democrat opponent a "stupid person" whose "economic treachery" would reverse the "decoupling" between the world No.1 and No.2 economies begun by his administration's huge import tariffs, technology export bans, and attack on social-media app TikTok.
Extending the deadling for TikTok either to sell or shut down for 5 days from today, the White House is now reviewing the undisclosed bid from US tech firm Oracle (NYSE: ORCL), said Trump's son-in-law Jared Kushner on Tuesday.
Apparently beating the bid from rival tech-giant Microsoft (Nasdaq: MSFT), ORCL's stock today edged fresh all-time record highs in pre-market trade.
Earning around US$16 billion in 2019 revenues, TikTok's privately-owned parent ByteDance was
reportedly considered an IPO flotation
on the Hong Kong stock market in July, with rumors putting its value at some $140bn.
"The latest, and perhaps most consequential, development...is [Chinese President Xi Jinping's] new 'dual circulation' strategy, first
announced at the May Politburo meeting
," said analysts at Washington think-tank the Center for Strategic & International Studies last month.
"DCS envisions a new balance away from global integration (the first circulation) and toward increased domestic reliance (the second circulation),"
the CISI says
, with Beijing "taking the initiative to seek change" by replacing its economic reliance on cheap exports with stronger consumer spending at home.
Trading at an average $9 premium to London however, domestic gold prices in China – from where exports of bullion are banned – have now traded at record deep discounts to free-market prices without pause since end-January's Lunar New Year, traditionally the peak season for household jewelry and investment buying, was disrupted by the Covid-19 pandemic and lockdowns.