Gold Price 'On the Brink' with 'Safe-Haven' Bonds as Draghi Urged to Push 'Ruinous' ECB Rates Even More Negative
Wednesday, 9/11/2019 14:01
GOLD PRICES bounced $10 off their lowest in a month in London trade Wednesday, steadying ahead of tomorrow's key Eurozone decision on interest rates and quantitative easing as world stock markets moved higher with bond yields.
Touching $1494 per ounce, gold prices rallied harder for Euro investors to gain 1.0% at €1357, some €56 below last week's new record high.
The
UK gold price in Pounds per ounce
meantime bounced just £1 above the £1200 level – a new all-time record when first reached in early August – as
a Scottish court declared
the UK Government's move to shut Parliament ahead of Brexit's Halloween deadline unlawful, a decision immediately appealed in the High Court by Prime Minister Boris Johnson.
"Gold prices are up [only] marginally,"
Reuters quotes
UK consultancy Capital Economics' Ross Strachan, "because of improvement in risk appetite" among investors.
"
Gold on the brink
as stocks and yields rebound," says one UK spread-betting analyst.
"Up dramatically, it's time for them to come back down."
Rising bond prices mean that the yield offered to new buyers by their fixed annual pay-outs fall in percentage terms.
Between 2003 and 2018, gold prices moved in the opposite direction to the yield on 10-year US Treasury bonds, when adjusted for inflation expecations, some 60.7% of the time.
That has risen to 77.8% so far in 2019.
Bottoming at a 6-year low of -0.09% last month, the real yield offered by 10-year TIPS rose Wednesday to 0.12%.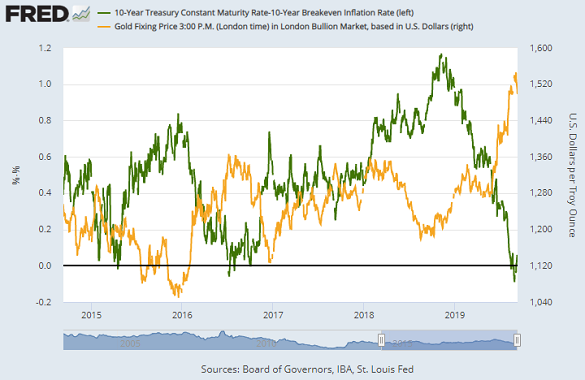 "As rates were collapsing gold was moving higher. Now the safety trade is coming off this very extended condition, and I think it should continue to unwind...[because] the way things are shaping, I think we could experience a nice run up in the equity market in the next 12 months."
Investors yesterday left both of New York's 2 largest
gold-backed ETFs
unchanged in size, with the SPDR GLD product holding at its smallest since end-August, shrunken by 1.5% from last Tuesday's near 3-year record.
Blackrock's cheaper iShares IAU trust fund meantime held at a record size, around one-third as large as the GLD, after expanding by 23% over the last 12 months.
Costing 0.40% per year against the IAU's management fee of 0.25%, the GLD has grown by less than one-fifth since September 2018.
Vaulting physical gold with outright ownership – rather than mediated through a legal trust structure – costs as little as 0.12% for private investors using BullionVault.
"Whether they're institutional [or] retail, individual investors,"
says one analyst to Bloomberg
, "there is a lot of looking-for-safety out here."
But while the consensus still sees the Federal Reserve trimming rates at this month's meeting, more than 1-in-10 bets now sees the Fed
failing to cut at this month's meeting
, according to data from the CME derivatives exchange, up from zero just 1 week ago.
Ahead of Thursday's ECB decision, "ECB to reduce negative interest rates even further," predicts the AFP news agency of the final meeting run by current Eurozone central bank President Mario Draghi.
But "
the ECB's challenge
[is] pushing rates further into negative territory without wrecking Eurozone banks," says MarketWatch, because while they are losing money on bonds, they aren't yet charging savers to deposit money.
"Lenders such as Deutsche and UBS say policy is ruining finance," reports Bloomberg.
Oil meantime steadied on Wednesday near $58 per barrel of US crude after losing $1.50 yesterday on news of White House advisor – and
long-time "warmonger'
according to the Iranian government – John Bolton leaving President Trump's team.