GLD Expands But Lags 2-Month High in Gold Price as Recession 'Now 40% Likely' on Worsening US-China Tensions
Monday, 6/03/2019 14:55
GOLD PRICES climbed Monday to their highest in more than two months as a fresh exchange of trade threats between Washington and Beijing stoked fears of a slide into recession, writes Atsuko Whitehouse at BullionVault.
Longer-term interest rates sank as world stock markets fell after China-US tensions escalated over the weekend as the two countries clashed over trade, technology and security.
US President Trump meantime arrived in the UK for a 3-day state visit, meeting the Queen but sparking protests from climate-change activists and shunned by opposition Labour leader Jeremy Corbyn for "interfering" in the ruling Conservative Party's leadership race by openly backing ex-foreign minister Boris Johnson.
Gold prices rose 0.9% from Friday's close to hit $1317 per ounce as the Dollar ticked 0.1% lower against other major currencies and the yield on 10-year US Treasury bonds fell 3 basis points to 2.10%.
The 10-year yield's 6th daily decline in a row, that took Washington's cost of borrowing to its lowest in about 21 months.
"We are seeing a lot of traditional safe-haven hedging coming back to the fray," says Stephen Innes at asset managers SPI of growing investment interest in gold.
The giant SPDR Gold Trust (NYSEArca: GLD) closed Friday with 0.6% week-on-week growth in the number of shares in issue.
The 3rd weekly rise in succession, that only took the GLD's size back to the level it started last month however.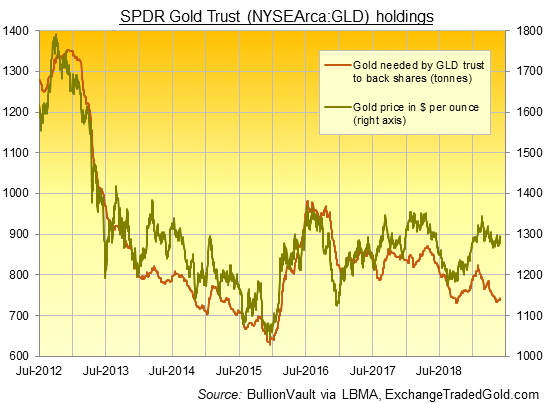 Hedge funds and other 'Managed Money' traders last week also raised their betting on gold futures and options, growing their long position on Comex contracts – net of the same group's bearish bets – by 36% according to
data from US regulator the CFTC
.
On Saturday, China implemented retaliatory tariffs of up to 25% on $60bn worth of US goods after Beijing's Commerce Ministry said it is
creating an "undesirable entities" list
to combat "unilateralism and trade protectionism".
Chinese authorities have launched an investigation into US-based delivery group
FedEx for diverting packages
from controversial tech giant Huawei to the United States without notifying the Chinese company, the state-run Xinhua News Agency reported Saturday.
China's Defence Minister Wei Fenghe also warned the United States not to meddle in security disputes over Taiwan and the South China Sea, after acting US Defense Secretary Patrick Shanahan told a meeting that the United States would no longer "tiptoe" around Chinese behaviour in Asia.
"No one now thinks a deal would be possible at [this month's] G20 [meeting of world leaders]," reckons Norihiro Fujito, chief investment strategist at Mitsubishi UFJ Morgan Stanley Securities.
A global recession could start within nine months if President Donald Trump imposes 25% tariffs on an additional $300 billion of Chinese exports and Beijing retaliates, according to Morgan Stanley.
J.P.Morgan Chase said separately the probability of a US recession in the second half of this year has risen to 40% from 25% a month ago.
Gold prices for European investors meantime rose 0.8% to €1177 per ounce on Monday as the pan-European Stoxx 600 fell 0.7%, hitting its lowest level since mid-February and adding to May's 6% slide.
The UK gold price in Pounds per ounce
also rose, jumping to its highest since the 2016 peaks after the Brexit referendum at £1043 as the FTSE100 index lost 1.1% to its lowest level since early March.
Silver prices gained 0.8% to $14.70 per ounce, a 2-week high, following the release of a better-than-expected survey of Chinese manufacturing.
Platinum also rose, up 1.0% to $802 per ounce – its highest in nearly a week after falling to 15-week lows.