Gold Prices Fall Amid Saudi Calls for US Strikes on Iran, Salvini Vow to 'Change Europe', Collapse of Brexit Talks
Friday, 5/17/2019 14:48
GOLD PRICES fell hard even as long-term interest rates dropped with most stock markets on Friday amid fresh Middle East tensions, the worsening US-China trade war, and the collapse of UK Brexit talks between the ruling Conservative and opposition Labour parties.
Washington's ally Saudi Arabia last night
accused Iran of a hitting a key oil pipeline
in the Sunni Islam kingdom with a drone strike, and a Riyadh newspaper called for the US to launch "surgical strikes" against its Shia neighbor amid their continued 'proxy' war in Yemen.
"We don't seek a war, nor do they," said Iran's supreme leader Ayatollah Ali Khamenei to state media overnight.
US President Donald Trump said "I hope not" when asked if war is likely after Washington imposed sanctions against sales of oil from Iran over what it calls continued breaches of the Islamic state's agreement to curb nuclear research.
Falling to $1281 per ounce, the Dollar gold price turned this week's earlier 1.4% gain into a small $4 loss.
Silver prices hit new 5-month lows at $14.43 and platinum fell to mid-March levels at $820.
Middle Eastern equity markets meantime held firm on Friday after Tokyo's stock market rose but Shenzhen fell hard, closing the week 2.2% lower as Beijing became more aggressive in its rhetoric over the
US-China 'trade war'
.
European stock markets then lost value too, erasing the week's earlier 1.5% rise on the EuroStoxx 600 index.
Major government bond prices all rose again meantime, pushing longer-term interest rates down to new 2019 lows on 10-year US Treasury debt.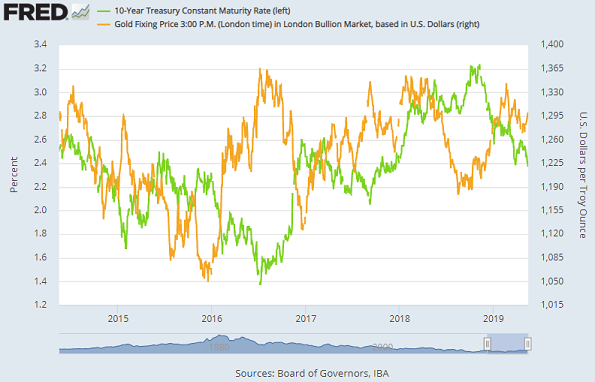 "Investors [have also] bought into European safe-haven government bonds," reckons a Reuters report, because they are "rattled by US-China trade tensions, concerns about a slowdown in global growth, and fears that Italy may break European Union fiscal rules."
Now
"burnishing his credentials"
to try and lead far-right parties across Europe according to the
Financial Times
, Rome's deputy prime minister Matteo Salvini says he wants "to change this Europe completely" in this month's region-wide elections.
For Italy's domestic government spending, "If we need to break some limits, like the 3% [annual deficit] or the 130-140% [debt-to-GDP ratio rule], we'll go ahead," he said yesterday in Verona.
"Until unemployment is halved in Italy, until we reach 5%, we'll spend everything that we have to spend."
The gap between Italy's 10-year borrowing costs and Germany's this week jumped to 2.8 percentage points, the widest yield spread since early February.
Friday afternoon saw Germany's 10-year Bund offer -0.12% in annual yield to new buyers, a new 2.5-year low.
UK Gilt yields also sank as bond prices rose, falling to 1.0% as talks between Prime Minister May and Labour leader Jeremy Corbyn ended with no "common position" on a new Brexit deal, news which Irish Prime Minister Leo Varadkar called a "very negative development".
Gold priced in the Pound trimmed its gain for the week to 1.0% at £1006 per ounce.
Euro gold prices meantime erased most of the week's earlier €20 gain to trade back at €1146.
The UK's top general in the region's US-led coalition
sees "no increased threat
from Iranian-backed forces in Iraq and Syria."
The United Arab Emirates is meantime "very committed to deescalation" its minister of state for foreign affairs Anwar Gargash said Friday, urging "caution and prudence [in this] brittle, difficult situation" following the unexplained
"sabotage operations" against 4 vessels
– two Saudia oil tankers, one Norwegian, and one UAE barge – near its coast on Sunday.
Causing "significant damage", the incident resulted in "no injuries or fatalities" nor any "spillage of harmful chemicals or fuel," according to the UAE.