GLD Leads US Gold ETF Outflows as Price 'Fails to Profit' from China, Iran or Brexit Tensions
Wednesday, 5/22/2019 14:55
GOLD PRICES steadied above $1275 per ounce in London trade Wednesday after ETF outflows continued despite the US-China technology spat widening to the UK and global stock markets falling ahead of tomorrow's European Parliament elections.
Major government bond prices rose once more, edging long-term interest rates down, as British micro-chip designers ARM
told staff to halt
all contact and contracts with China's Huawei, set to come under
a ban from Washington
.
Crude oil meantime gave back more of the last week's 2% gain as the US
tried to calm tensions over Iran
, with Acting Defense Secretary Patrick Shanahan saying the immediate threat from Tehran is "on hold".
"Gold is failing once again to profit from the increased risk aversion among market participants," says Germany's Commerzbank in a note.
"Gold investors are being left frustrated and sidelined by the yellow metal's lack of momentum," agrees spread-betting bookmaker Saxo Bank, "despite an escalating trade war, heightened concern about stability in the Middle East, recent stock market gyrations and the decline of bond yields towards an 18-month low."
But with US Dollar gold prices slipping 0.5% so far this month however, investor interest in gold ETFs has shrunk, with the 5 largest gold-backed trust funds listed in New York seeing shareholders liquidate more than 1.5% of their stock as a group.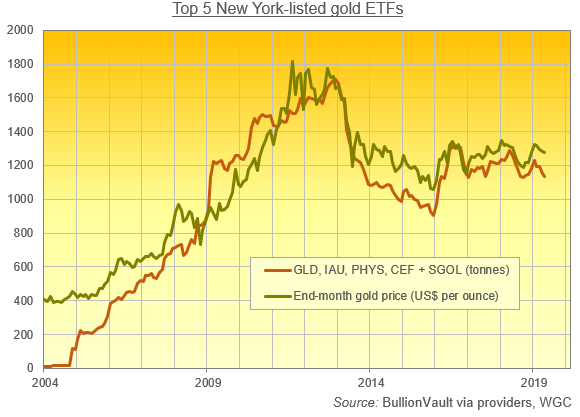 Led by the giant SPDR Gold Shares (NYSEArca: GLD) and the smaller but lower-cost iShares product (NYSEArca: IAU), outflows from the 5 largest US
gold ETF products
have totaled 18 tonnes net since the start of May.
While the next 2 largest such North American gold ETFs – the 'low cost' mini-GLD (NYSEArca: GLDM) and Graniteshares (NYSEArca: BAR) offerings – have grown by 1.6 tonnes so far in May, that's less than 1/10th of the top 5 outflow.
Over the last 5 years, the size of today's 5 largest US gold ETFs has shown a strongly positive correlation of more than 0.81 on average with the US Dollar gold price on a 12-month basis.
That compares to a correlation of +0.70 over the prior 5 years and +0.69 over the 5 years before that.
It would read +1.0 if gold prices and the size of the top 5 gold ETFs now listed in New York moved perfectly together in lockstep.
The top 5 European-listed gold ETFs have meantime held flat overall in May 2019 so far, adding just over 0.5 tonnes to total 663 tonnes as the lower-cost Invesco product (LON: SGLD) has grown to negate outflows from the other four, led by the Börse Frankfurt's Xetra-Gold.
European gold ETF holdings "reached all-time highs in February," notes the mining-industry backed World Gold Council in its
latest monthly comment
.
March and then April saw "most outflows coming from the UK [as] the Brexit minimum six-month delay improved investor sentiment and strengthened the Pound, creating a shift in the positive trend seen in earlier months."
Seeking to win Parliament's approval in a vote early next month, UK Prime Minister Theresa May today urged lawmakers to
back her Brexit withdrawal agreement
with the European Union at the fourth time of asking.
UK opposition Labour leader Jeremy Corbyn called May's "new deal" just a "repackaged version", warning that she has "only days left in her job" amid Conservative Party infighting, while Brexit is "dividing our society and poisoning our democracy."
The
UK gold price in Pounds per ounce
today rose back near last Wednesday's 10-week highs, trading up to £1008 as new data showed UK consumer prices rising less than predicted in April.
Showing annual inflation of 2.1%, the headline CPI index rose at the fastest pace so far in 2019 as government borrowing also came in below forecasts at £5.0bn for the month.
Ahead of tomorrow's start to the European Parliament elections –
expected to see strong gains
for so-called 'populist' parties across the Union, most especially the UK's Brexit Party of Nigel Farage – the gold price in Euros edged €2 below last week's finish to trade at €1142 per ounce.
Silver priced in Dollars meantime rallied back to last week's finish around $14.45 but platinum set new 3-month lows beneath $808.