Gold Bullion's 25% Jump in 2019 Hits Chinese Demand as Trump Threatens New Trade Tariffs
Wednesday, 11/20/2019 13:53
GOLD BULLION rose in Asian and London trade Wednesday, touching almost 2-week highs against a falling Dollar as world stock markets dropped amid worsening violence in Hong Kong while comments from US President Donald Trump raised tensions in the US-China trade dispute.
Longer-term interest rates also fell with equities, reducing the opportunity cost of owning non-yielding gold as investors bought into major government bonds, pushing the price of US debt up towards the highest so far this month.
Gold priced in the US Dollar
touched $1478.80 per ounce at the start of London bullion trading, before edging back 0.5% to show a small gain for the week so far by lunchtime.
Wholesale gold prices on the Shanghai Gold Exchange had earlier rallied for the 3rd day running, also hitting the highest in 2 weeks at ¥334 per gram.
Some 5.2% below September's 7-year high, that still put the cost of buying gold higher by one-quarter from this time last November for households in the metal's No.1 mining, importing and consumer nation.
"Demand in Shanghai is
getting pressured
because the economy is not doing well," says Samson Li, analyst for data providers and metals consultancy Refinitiv GFMS.
"People do not have enough money to buy the expensive metal."
In US Dollar terms, data from the OECD say the Chinese economy grew by 2.6% in the year-ending September, barely one-fifth its average annual pace over the last quarter-century.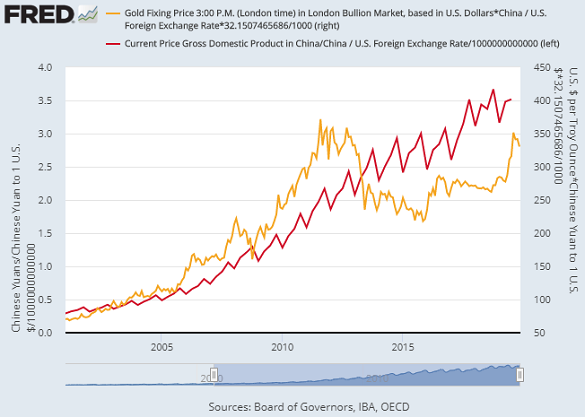 Wednesday's rally in Yuan gold prices helped double the premium for bullion landed in China up from yesterday's drop to just $1.60 per ounce over London quotes.
But that kept the incentive offered to new bullion imports at the lowest 5-day average since July 2018, suggesting weak domestic demand at $3.25 per ounce – barely one-third its average over the last 10 years.
"China is going to have to make a deal that I like. If they don't, that's it...I'll just raise the tariffs even higher." said US President Trump on Tuesday.
"Some White House advisers would like to see China agree to large, specific agricultural purchases,"
says a Reuters report
, pushing Beijing beyond just rolling back the trade spat running since Trump began imposing new charges in July 2018.
The US Senate meantime
unanimously passed a bill
on Tuesday "holding accountable Chinese and Hong Kong government officials responsible for Hong Kong's eroding autonomy and human rights violations" as the protests starting this June roll on.
In the city's 2014 protests for electoral reform,
says the Inkstone blog
from Hong Kong's
South China Morning Post
, "outrage over the police's use of 87 rounds of tear gas brought tens of thousands of people to the streets.
"This time around, the police have unleashed more than 10,000 rounds of the choking smoke since June [while] the police said they found some 3,900 petrol bombs on the campus of the Chinese University...site of clashes between students and riot police."
UK relations with the Chinese regime also worsened today after a former employee at London's consulate in Hong Kong told the BBC he was
tortured and accused of helping British intelligence
stoke anti-Beijing protests when he was arrested on a trip to mainland China this August.