Gold Bullion 'Gets Tailwind' from Covid Upswing as Fed Calls US Banks 'Strong', WDI + INTU Lose 99.99% from Peaks
Friday, 6/26/2020 13:48
GOLD BULLION prices held firm against a rising US Dollar in London trade Friday, gaining for the 17th in 26 weeks so far in 2020 as the Federal Reserve declared US banks to be "strong" despite $700bn of possible loan losses from the Covid Crisis, and the European Council called for an investigation into German regulator BaFin's failure to spot €1.9bn in fraud at payments giant Wirecard.
New cases of Covid-19 jumped higher again in the US meantime, while the UK Government said it was
"reluctant" to close beaches
despite saying 1000s of people effectively breached what remains of the UK's lockdown rules by travelling to Bournemouth on the south coast amid this week's heatwave.
Shares in UK shopping-mall owner Intu Properties (LON: INTU) today sank in half, trading 99.99% below their 2010 peak, after the 132,000-staff business said it's struggling to service £4.5bn in debt ($5.6bn).
"Gold is
finding [a] tailwind
from concerns about a second wave of infections," reckon analysts at German bank Commerzbank.
"The expansion of central bank liquidity and public debt continues to argue for a robust demand for gold as a safe haven and store of value."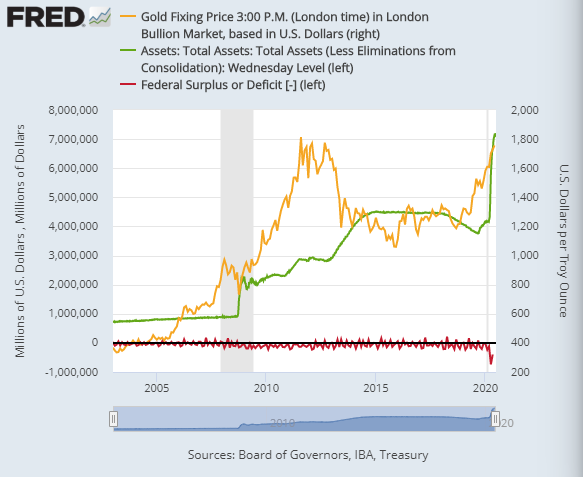 Giant
gold-backed exchange traded fund
the SPDR Trust product (NYSEArca: GLD) shrank on Thursday, seeing its first net daily outflow since 9 June but still heading for its 14th consecutive weekly expansion at the largest size since early 2013.
Gold bullion settled in London today showed a 1.0% gain for the week in US Dollars, trading $18 shy of Wednesday's new 8-year high near $1780 per ounce.
While China's markets were closed for the Dragon Boat festival on Friday, the week's earlier gains in London bullion prices saw domestic prices in the metal's No.1 consumer nation show an average $20 per ounce discount, reflecting the weakest balance of local demand versus supply since mid-May.
Back in Washington, the
Federal Reserve last night banned
larger US banks from making dividend payments or share buybacks, a move urged by Democrat senators in April, first called for in mid-March by former FDIC chair Sheila Bair and also publicly backed by ex-Fed chair Janet Yellen.
"The banking system has been a source of strength during this crisis," says Fed vice-chair Randal Quarles.
"The results of our sensitivity analyses show that our banks can remain strong in the face of even the harshest shocks."
While 8 of the largest US banks agreed to stop buying back their own shares on 15 March, "vowing to aid clients [and] nation" by preserving their cash buffers instead, nearly 30 smaller community banks
did buy their own shares
during the crash phase of the Covid Crisis between 1 March and 7 April according to ratings agency S&PGlobal.
The European Commission in Brussels meantime asked its markets watchdog today to investigate how Germany's domestic finance regulator BaFin missed the accounting scandal uncovered by journalists from the Financial Times at payments company Wirecard (ETR: WDI).
Worth more than €20bn at its 2018 peak, shares in WDI today sank to new all-time lows of €1.90, down 99.99% from that top.
Global stock markets rose however, extending last night's late surge on Wall Street to put the MSCI World Index on track for its 15th weekly gain in the 26 weeks of 2020 so far.
Industrial commodities held flat, while silver bullion traded back at $17.88 per ounce – the price level of New Year 2020 and also the eve of March's
sudden 25% plunge on the Covid Crisis
.