Gold Bullion Erases $10 Bounce Despite French Election, N.Korea Risks, Imports to China Jump
Tuesday, 4/25/2017 13:42
GOLD BULLION erased all of last night's $10 rally from 2-week Dollar lows Tuesday morning in London, trading back at $1268 per ounce as world stock markets extended their gains following the first-round of France's presidential election.
With pro-Euro centrist Emmanuel Macron now facing the National Front's Marine Le Pen in May 7's run-off, "The presence of the far-right in the second round is a risk for the country," said current president François Hollande in a TV address to the nation.
"What is at stake is France's make-up, its unity, its membership of Europe and its place in the world."
"[But] a victory by Marine le Pen is quite far-fetched," says a note from French bullion bank Natixis, "especially given the relative success of left-wing candidates" such as Jean-Luc Mélenchon during Sunday's first round of voting.
"What is more likely to impact the price of gold over the next two months is a Fed rate hike."
Traders now see a four-in-five likelihood of a hike to a ceiling of 1.25% in the Fed Funds rate at the June meeting,
according to data
from futures exchange the CME.
Gold bullion imports to neighboring China, the world's No.1 gold buying nation, last month jumped to almost 112 tonnes through Hong Kong net of re-exports, new data said.
The highest level since May 2016, those net imports – almost twice the size of February – came as gold priced in Chinese Yuan held flat after two consecutive months of 3% average gains.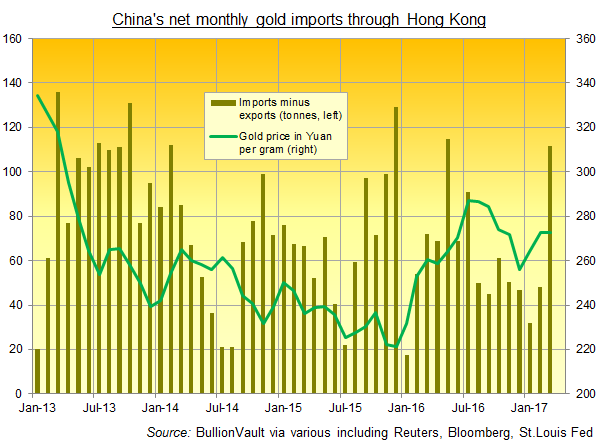 "It looks like the old inventories have been consumed and the banks are replenishing stocks," reckons Joshua Rotbart of bullion services providers J.Rotbart & Co in Hong Kong.
Gold premiums for metal delivered in Shanghai, where bullion is now also imported directly, last month averaged more than $14 per ounce over and above comparable Dollar quotes in London, center of the world's wholesale bullion trade.
That incentive to new gold imports has since retreated however, dropping to average $9 per ounce so far in April – in line with the 12-month average since the
Shanghai Gold fix benchmark
launched last April – as world prices spiked to their highest Dollar level since Donald Trump won the US presidential election last November.
Holding a 6.0% gain in Dollar terms since Trump's inauguration 100 days ago, gold prices have also gained in Chinese Yuan and Euro terms,says a note from Ross Strachan at specialist analysts Thomson Reuters GFMS, "showcasing that this price rise has not been a function of Dollar weakness.
"An improvement in Indian demand has also played a role...[But] a rise in geopolitical fears, not least due to events in Syria, has [also] clearly played an important part in the price increases...and encouraged investment flows."
Giant gold-backed ETF trust fund the GLD yesterday grew by another 1.5 tonnes as the number of shares in issue rose, taking its total holdings back to last week's new 2017 high of 860 tonnes with only the second back-to-back days of net investor demand of the last 6 weeks.
The giant SLV silver trust ended Monday unchanged, shrunk by more than 4% to need 10,119 tonnes of backing since silver bullion prices hit 5-month Dollar highs of their own a fortnight ago.
Silver prices today retreated back beloow $17.80 per ounce. Platinum dropped towards 2-week lows at $954 per ounce.