Profits in Gold Bullion 'Sold to Cover Other Losses' as US T-Bonds See Record-Wild Swings
Thursday, 3/19/2020 14:49
GOLD BULLION fell back against the rising US Dollar on Thursday, but it held unchanged for Eurozone investors after the European Central Bank announced €750 billion of new quantitative easing aimed at reducing credit stresses for the 19-nation currency union's governments and business borrowers as economic activity halts amid the worsening coronavirus pandemic.
US claims for jobless benefits meantime leapt on figures released today, pulling
the 4-week average up to its highest
since January 2018 and snapping the last decade's relentless decline to 50-year lows.
"We are officially declaring that the US economy has
fallen into a recession
," says a new note Thursday from US finance giant Bank of America-Merrill Lynch, "joining the rest of the world.
"It is a deep plunge. Jobs will be lost, wealth will be destroyed and confidence depressed."
Commodity prices bounced however on Thursday from the lowest levels in over 4 decades, with crude oil edging back above $25 per barrel.
Government bond prices continued their steep volatility, pulling 10-year US yields 13 basis points lower as German Bund yields initially jumped.
Both in basis-point terms and as a percentage move, US yields have never whipped as violently either up or down as they have already this month.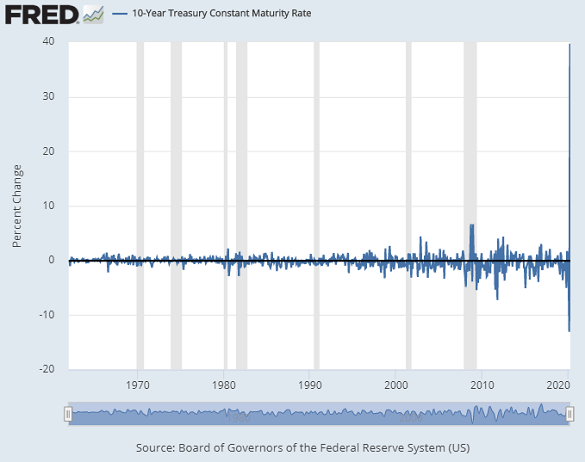 Government bond prices for Italy – now
about to overtake China
for corona-deaths with a total reaching almost 3,000 by last night – jumped on the news, slashing Rome's cost of borrowing versus the region's benchmark German Bund yields after they spiked near 2012 crisis levels yesterday.
Yields offered by corporate bonds also sharply as debt prices initially rose, slashing the spread over and above government bond rates.
But the
risk of debt default remains elevated
worldwide according to bond-insurance prices, and European stock markets fell into the red yet again Thursday after initially rising on the ECB decision.
"Gold has likely been
used to raise cash to cover losses
in other asset classes," says a note from the mining industry's World Gold Council, "because it remains one of the best performing asset classes year-to-date, despite recent fluctuations...[and] it is a high quality and highly liquid asset, trading over $260 billion per day in March."
"Eventually, diversification of assets will come, investors will not hold dollars forever," says specialist consultancy GFMS Refinitiv's Debajit Saha.
"They will be looking to invest in safe assets and there will come the appeal for gold. [But] until the panic calms down,
wild swings will be observed
in all assets."
With the Euro falling to new 3-year lows against the Dollar on the FX market on Thursday, the gold bullion price for German, French, Italian and Spanish investors rose back to last weekend's level at €1380 per ounce – a new record high when first reached last August.
The EuroStoxx 600 share index, in contrast, today hit it lowest level since late 2012.