ETF Investors Shun Gold But Central Banks Buy as Romania Repatriates, China Eases
Wednesday, 4/24/2019 14:14
BUY GOLD prices rallied $5 per ounce from yesterday's new 4-month low in US Dollar terms on Wednesday, and held little changed from Easter weekend's level for UK and Euro investors as global stock markets slipped with major government bond yields.
The Lower House of Parliament in Romania – currently president nation of the 28-member European Union –
voted 165-to-90 in favor
of the gold reserves 'repatriation' plan put forward by members of the ruling PSD Party.
Widely seen as part of the PSD's battle for control of the legally independent Banca Naţională a României (BNR), the draft law seeks to keep 95% of
Romania's 103-tonnes bullion bar reserves
in Bucharest, with the other 5% only allowed abroad if it is lent out to generate income.
Setting a half-century record in 2018, central-bank gold buying worldwide "could reach 700 tonnes" this year, says Bloomberg today, quoting analysis from US financial giant Citigroup (NYSE: C).
"Central banks tend to increase gold reserves when the global macroeconomic environment is uncertain," the news-wire also quotes Howie Lee, economist at OCBC in Singapore (SGX: O39), noting that "one of the biggest buyers of gold in recent months was China, [now] in the midst of trade tensions with the US, and...seeking to diversify its trillions of Dollar reserves."
"There is growing evidence that central banks are tilting their asset reserve mix into bullion and away from the USD," agrees a note from Canadian brokerage
T.D.Securities
, also noting how "central bankers around the world may again need to follow a nonconventional monetary policy path when the economy heads south...[giving] additional fodder for the view that private asset allocations would follow the official sector in increasing the weighting of hedge assets like gold in their portfolios."
But
gold investing
among private fund managers has eased back in contrast as prices have fallen this month, with the giant SPDR Gold Trust (NYSEArca: GLD) shrinking by another 0.3% yesterday, taking its net liquidation since late-January's 7-month peak to nearly one-tenth.
Tuesday's investor outflow pulled the quantity of gold needed to back the GLD's shares down below 750 tonnes for the first time in 6 months.
The GLD has now seen investors liquidate stock on 11 of the 16 trading days so far in April, the heaviest stretch since gold prices peaked and fell back from 10-month highs near $1350 in mid-February.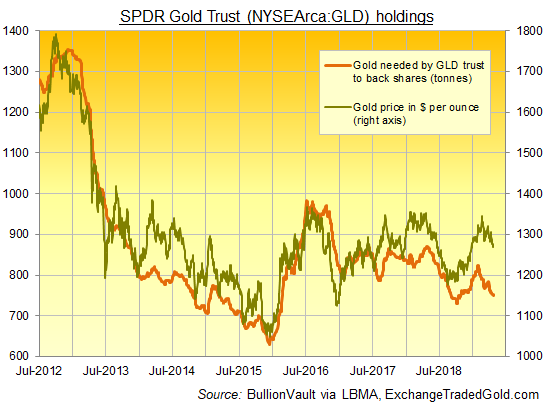 "Many in the market are dismayed and ponder what it will take to move gold past $1350 in a meaningful way, if a dovish Fed can't do the job," T.D.Securities goes on.
After
un-named "policy insiders"
said Tuesday that the People's Bank of China will slow the pace of its monetary easing, the PBOC today lent almost $40bn to commercial banks in a bid to boost lending to what the Reuters news agency calls "struggling" smaller businesses.
Shanghai gold prices fell overnight to 1-week lows, just above the cheapest Yuan level since mid-December, even as the Chinese currency slipped to its weakest against the Dollar so far this month.
That clipped the premium for bullion landed in China – gold's No.1 consumer nation – below $18 per ounce versus London quotes, still twice the typical incentive offered to new imports.
Shares in Belgian refining, recycling and precious-metal technology specialists Umicore (EBI: UMI) meantime fell another €1.30 on Wednesday to €34.50 after losing €7.50 on yesterday's warning that weak demand for electric vehicles in China is hurting the outlook for battery sales.
The wider auto market looks "weak" in both China and the US, says a note from analysts Metals Focus, but tighter rules on engine emissions in China and India should stabilize or even
boost demand for platinum
to use in diesel autocatalysts according to refining and technology specialists Johnson Matthey (LON: JMAT).
Back in Bucharest, the Chamber of Deputies also today approved the Government's
changes to Romania's criminal code
, reducing penalties for abusing public office, limiting press freedoms to report on corruption trials, and setting a 1-year time limit for accusing a public official of a crime.
"After a year has passed, the person who denounces can also be punished," reports Bursa.ro online.
De facto leader Liviu Dragnea, head of the PSD but barred from taking the job of Prime Minister by
an on-going court case over corruption
, last week vowed to give farming households in Romania's poorer northern and eastern regions a grant worth over $4,500 each – a move set to worsen the country's national deficit, already set to bust EU rules capping the gap between spending and revenues at 3% of annual economic output.