Gold/Silver Ratio Retreats from New 26-Year High as Silver ETF Investing Expands
Thursday, 4/18/2019 14:18
SILVER INVESTING and gold prices both rallied Thursday from this week's new lows for 2019 as major government bond prices bounced, edging long-term interest rates lower from April's sharp rise.
The US Dollar meantime rallied on the FX market, while Asian stock markets fell but European shares rose.
That held the MSCI World Index of global equities close to yesterday's new 6-month high, up 20.0% for the year to date.
Gold in contrast has now slipped 0.5% from New Year's Eve despite bouncing $3 per ounce Thursday from an overnight drop to $1271.
Prices to invest in silver meantime held below $15 per ounce, losing 3.3% for 2019 so far despite a 10-cent rally from Monday's low of $14.86 per ounce.
Comparing the 2 precious metals against each other, the Gold/Silver retreated to 85.0, down again from Monday's pop to 86.16 – the highest price for gold in terms of silver since November 1993.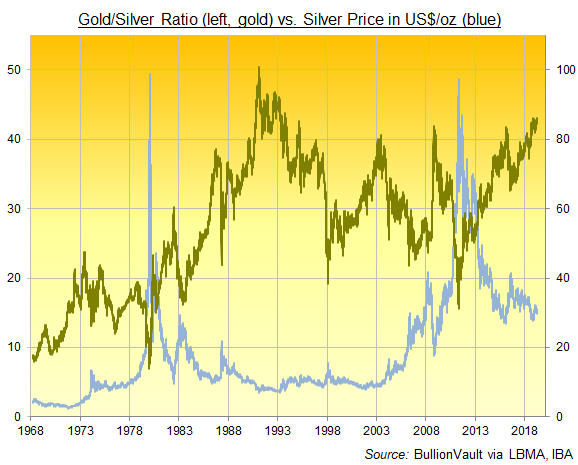 Total silver demand worldwide rose last year for the first time since 2015, spurred by a surge in silver investing, says the new
World Silver Survey 2019
from analysts GFMS at Refinitiv, published for the Washington-based
Silver Institute
of users and producers.
Demand to invest in silver rose by an "impressive" 20.5% in 2018, the Silver Institute says, "entirely driven by silver bar demand, which jumped up by 53%...led by exceptionally strong sentiment in India...[while] coin and medal demand dipped by 4% [worldwide]."
Gold bar and coin demand rose 4.0% worldwide in 2018, according to GFMS' competitors Metals Focus.
Silver jewelry demand rose 3.9% on GFMS' data for 2018. Industrial use, the largest segment of silver demand, shrank by 1.2%.
Investor interest in the world's largest gold-backed ETF trust, the SPDR Gold fund (NYSEArca: GLD), yesterday edged higher from Tuesday's new 6-month, needing fewer than 753 tonnes of backing.
The largest silver investing ETF, the iShares Silver Trust (NYSEArca: SLV), has meantime grown 0.8% as
silver bullion prices
have held little changed so far this week, needing 9,703 tonnes of backing.
With the Yuan holding near this week's 2-month highs against the Dollar, the gold price in Shanghai today held a strong premium over global quotes, offering an incentive of more than $18 per ounce for new imports of bullion to China, the No.1 gold consumer nation.