Gold Up, Stocks Down with Commodities as Trump Catches Covid, 'Deflation Pressures Grow'
Friday, 10/02/2020 14:07
GOLD PRICES rose and global stock markets fell with commodity prices on Friday after US President Donald Trump confirmed that he and his wife have tested positive for Covid-19 and new data showed the world's largest economy adding fewer jobs than expected in September.
Non-farm US payrolls expanded by 661,000 last month said today's first estimate from the
Bureau of Labor Statistics
, almost a quarter below analyst forecasts and leaving total employment 10.7 million below February.
With barely 4 weeks to go until the 2020 White House election, Trump's vice-president Mike Pence says he is negative for Covid-19, while Democrat challenger Joe Biden said he is taking a test after meeting the reality-TV real-estate mogul for Tuesday night's fractious debate.
Gold prices jumped to touch an 8-session high at $1917 per ounce as the new broke, reclaiming over half of
last week's 5% drop
while silver failed to beat Tuesday's 1-week high at $24.40 per ounce.
"Precious metals were much calmer than other sectors," notes head analyst Rhona O'Connell at brokerage StoneX, while crude oil "was the biggest reactor to the news of the President's infection.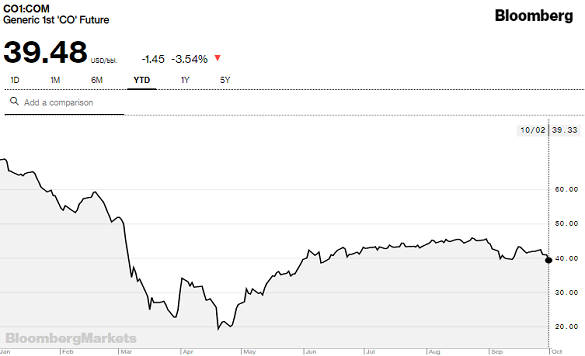 "Base metals [also] tumbled this morning," StoneX's O'Connell goes on.
"Copper was already under severe pressure in the face of rising inventories. Off by over 4% overnight [before rallying to unchanged at lunchtime in London], it has retraced 20% of the March-September rally."
Despite this deflationary turn in raw material costs, real US interest rates – after accounting for market-based inflation forecasts – meantime slipped further into negative territory across the curve on Friday, implying an annual loss of 0.96% to buyers of Washington's 10-year debt and 0.35% on 30-year Treasury bonds.
Those rates set 21st Century lows at -1.08% and -0.46% respectively as gold prices hit their current all-time record highs above $2000 per ounce in early August.
With the Federal Reserve's short-term interest rate now set at 0%, the latest US inflation data on Thursday showed the cost of living rising 1.6% per year in August on the Fed's preferred 'core' personal consumption expenditure measure.
That was the fastest pace since March, up from April's 9-year low of 0.9%.
"Eurozone's second month of
deflation raises pressure
on ECB," says a headline at the
Financial Times
, reporting fresh calls for the 19-nation central bank to "loosen monetary policy further, perhaps before the end of the year."
"
Deflation recorded
for record third month," says the
Jakarta Post
of today's new cost-of-living data from Indonesia, the world's 4th most populous country.
But among emerging economies as a group, "A raft of recent monetary policy decisions – in countries like Brazil, South Africa, Indonesia, Russia – suggest that EM central banks are by no means as keen as they used to be to cut policy rates," says US financial giant Citigroup's economist David Lubin.
"This raises the question of whether we have reached the end of the rate-cutting cycle" outside rich-world economies.
Faced with
inflation now forecast
to reach 11.9% across 2020, the central bank of Turkey – the world's 5th largest private gold buyer – raised its key lending rate by 2.0 percentage points in late September, almost erasing this year's earlier cuts in the hope of reverse the Lira's plunge to new all-time lows on the currency market.
The hike aims to bring about "
a sustained disinflation
...a key factor for achieving lower sovereign risk, lower long-term interest rates, and stronger economic recovery," according to minutes from last month's policy meeting release Friday in Ankara.
Turkish foreign minister Mevlüt
Çavuşoğlu yesterday told Russian counterpart
Sergei Lavrov that Armenia's occupation of the disputed Upper Karabakh region of Azerbaijan must end for a ceasefire in its neighbors' conflict – flaring once more after the collapse of the Soviet Union saw hundreds of thousands of people displaced in
the war of 1992-4
– to have any meaning.
Gold priced in Euro terms meantime rose to €1629, 1.8% higher from last weekend and a new record high when first reached in May.
The EuroStoxx 600 index of share prices cut its opening plunge to 0.6%, heading for a small weekly gain overall, but S&P futures trading put the US stock market on track to lose 1.6% at Friday's opening.