Silver and Gold Slip But Investment ETFs Expand Again as Consumers China and India Glutted with Bullion
Wednesday, 6/03/2020 13:57
GOLD and SILVER prices slipped and rallied in London trade Wednesday after the two precious metals' largest New York-listed ETF investment trusts expanded for a 5th session running.
Global stock markets followed Wall Street higher yet again despite the ongoing civil unrest in the United States over the police killing of unarmed black civilian George Floyd, while new data showed a stronger-than-expected rise in unemployment in Europe's No.1 economy Germany as a result of the ongoing anti-Covid19 social distancing and lockdown rules.
Gold priced in the Dollar fell 1.7% from Tuesday's 2-week peak of $1745 per ounce, rallying to $1725 at the start of today's New York trade.
Silver prices meantime doubled that drop, falling 3.5% to the lowest since Friday at $17.73 after touching 3-month highs near $18.40 per ounce 3 times so far this week.
Silver also then bounced twice as hard as gold, regaining 1.1% to trade at $17.95 per ounce.
The giant SPDR Gold Trust (NYSEArca: GLD) yesterday expanded by another 0.1% to need 1,129 tonnes of gold bullion backing, the most since mid-April 2013.
Cheaper competitor the iShares Gold product (NYSEArca: IAU) expanded by the same proportion, needing an 0.5 tonnes of backing at a fresh lifetime record of 442.
Together those 2
gold ETFs
– the largest such products listed on the US stock market – have this week grown above their previous joint record size of 1,568 tonnes in December 2012.
Outpacing those gold ETFs' growth on Tuesday however, the world's largest silver-backed ETF – the iShares Silver Trust (NYSEArca: SLV) – saw its number of shares in issue grow by 1.5% to need an extra 208 tonnes of silver backing, setting a fresh record of 14,772.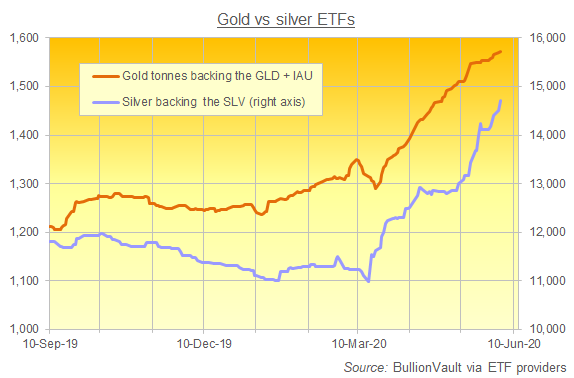 In contrast to Western ETF and direct investment demand – now taking BullionVault client property up 23.7% so far in 2020 to
a new record value above $3.0 billion
– jewelry demand in the key consumer countries of Asia remains negligible, even with anti-virus lockdown restrictions eased in No.1 private buyer China.
The Shanghai gold discount to London prices today widened to $14.50 per ounce however, continuing to suggest very poor domestic demand in a nation which, like India,
blocks the free export of bullion
.
"Our Shanghai head of precious metals has been through the documents and believes that the intention is to simplify the position and won't make that much difference," says analyst Rhona O'Connell at global brokerage INTL FCStone.
"I don't think this looks like a long-term permit, because it is only simplifying the paperwork," agrees a former senior London bullion banker to BullionVault in a private email, calling the move "a kind of temporary relief scheme" for China's over-supplied gold market.
"The Chinese will allow full exports of gold only when RMB is convertible. That will only happen when they can find a currency to swap into that isn't USD."
Already at a 3-decade low meantime, imports of gold into India – the metal's No.2 consumer nation –
totalled just 1.4 tonnes in May
, says Reuters citing a "government source", extending the 99% drop from last year amid the country's anti-virus lockdown rules.
While April showed just $2 million-worth of gold imports,
inflows to India of silver
bullion fell less steeply, dropping 59% year-on-year and totalling $104m.