Gold Firm, Silver Reaches $23 as Fed Raises, SNB Hikes in Face of 'Tight' Banking-Crash Credit
Thursday, 3/23/2023 15:19
The GOLD PRICE held firm against all major currencies on Thursday, retaining 4/5ths of this month's 10% banking-crash spike while silver also rose, touching 7-week highs despite further interest-rate rises from the US Federal Reserve and 3 other Western central banks, adding to tighter credit conditions in the global economy in a bid to curb inflation.
Gold traded just below $1980 per ounce as new data said US sales of newly-built homes sank in February but New York's stock markets jumped to reverse Wednesday's 1.7% drop.
Silver meantime edged above $23 per ounce for the first time since the start of February.
"Recent banking events
will result in tighter credit
conditions," said Fed chairman Jerome Powell on Wednesday, raising overnight Dollar interest rates to a ceiling of 5.00% per annum while maintaining the US central bank's outlook for rates to end 2023 at 5.1%.
"That would impact the economy and how we need to respond."
Gold's price strength despite the rate rise shows that "the market looks...more interested that the Fed is concerned about underlying risks" says brokerage StoneX's precious-metals expert Rhona O'Connell.
Indeed, "If recent liquidity injections aren't sufficient to stem the impending tightening of financial/credit conditions," says Swiss bullion refining and finance group MKS Pamp's strategist Nicky Shiels, "that's deflationary for most assets.
"[If] a Wall Street crisis becomes a Main Street crisis [then history says] gold should outperform if/when financial conditions tighten," Shiels goes on, highlighting gold's value against sister metal silver.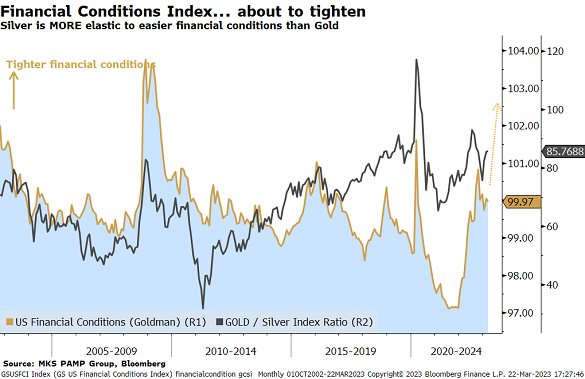 Peaking above 95 last September, the
Gold/Silver Ratio
– which simply divides the price of the 'safe haven' yellow metal by the price of the more industrially useful white metal – today edged down to a 1-week low of 86.4 ounces of silver to 1 ounce of gold.
"Both are factors that could drive further safe-haven demand for gold."
Norway and the UK's Bank of England today followed the Fed's overnight rise with a quarter-point increase, while the Swiss National Bank surprised traders and analysts with a half-point hike even as shares in giant bank UBS fell more than 3.0% amid fresh legal wrangling over its
'shotgun' acquisition
of distressed rival Credit Suisse.
Swiss financial regulator Finma today
issued an "explainer" for bondholders
looking at legal action over the wipe-out of $17 billion in AT1 debt, asserting that triggering the write-down clause in those contracts was "a solution...to protect clients, the financial centre and the markets."
Such banking "developments" mean that "wholesale funding costs have risen in the United Kingdom and other advanced economies," noted the Bank of England this morning,
raising UK interest rates
to 4.25% in the face of consumer-price
inflation rising to 10.4%
on last month's data.
"[We] will continue to monitor closely any effects on the credit conditions faced by households and businesses, and hence the impact on the macroeconomic and inflation outlook."