UK General Election Sees Gold Price Right Where It Was for May 2010 Vote as Bunds Fall Again
Thursday, 5/07/2015 16:21
The GOLD PRICE slipped back towards last Friday's 7-week closing low in London trade Thursday, retreating to $1183 per ounce for Dollar investors as Asian and European stock markets fell but New York equities rose.
Sterling gold prices for UK investors held unchanged as London's FTSE-100 share index marked voting in the General Election – expected to result in an indecisive 'hung' parliament – by falling 0.8%.
Dollar gold prices also marked new all-time highs at current levels 5 years ago this week.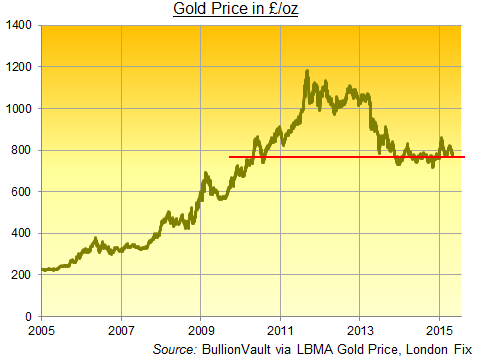 "Gold prices have come back under pressure amid a recovery in the Dollar, and uncertainty ahead of Friday's non-farm payroll figures," says the London commodities team of China's ICBC Standard Bank, pointing to this week's key US unemployment data.
"US economic data [are] once again the major factor driving precious metal prices in late April and early May," agrees a note on investor positioning from Mitsui Global Precious Metals.
Having reviewed April's incoming data, "A June interest rate rise was all but ruled out by the US Fed last week," says Jonathan Butler at Japanese conglomerate Mitsubishi, "as the central bank conceded that the US recovery has lost momentum."
But for gold prices – now 2.7% below last week's near 1-month high in Dollar terms – "The surge in sovereign bond yields was mostly to blame," Butler concludes.
US Treasury yields eased back Thursday as prices rose, but major Eurozone government bonds extended this week's sharp decline.
Commodities also fell further on Thursday, extending their drop from Tuesday's new 2015 highs on the Reuters/Jefferies CRB index, with a 1.8% retreat in crude oil prices.
"For us," says analyst Nic Brown at French investment and bullion bank Natixis, "there is a growing risk that the recent rise in base metal prices will soon bring about its own downfall" thanks to encouraging exports from Chinese stockpiles and heavier output from Asian mines.
Greek government bond prices held unchanged meantime, keeping 10-year yields at what was a 21-month high when hit in mid-March, after left-wing prime minister Alexis Tsipras issued a joint statement with European Commission president Jean-Claude Juncker overnight noting "progress in discussions" over the economic reforms demanded by Athens' partner states in return for extending its bail-out loans.
"Constructive talks
must continue within the framework
" of public-sector reforms and loan repayments already agreed with Athens' previous government, the statement ended.
A separate statement issued jointly by the EC, IMF and European Central Bank
denied rumors of a rift
between Greece's "troika" of lenders, claiming the three parties all "share the same objective of helping Greece achieve financial stability and growth."