Gold Regains $1800 as Powell, Yellen and the World Bank Acknowledge Higher and Persistent Inflation, Oil Hit Multi-Year High
Monday, 10/25/2021 14:10
GOLD and SILVER PRICES continued rising this Monday as US Federal Reserve Chair Jerome Powell, Treasury Secretary Janet Yellen and the World Bank acknowledge pronounced inflation, amid oil prices hitting multi-year highs writes Atsuko Whitehouse at BullionVault.
Spot gold rose 0.6% to regain the key $1800 level after paring its highest in 1.5 months gain at $1813 per ounce last Friday.
Spot silver meanwhile also edged up 0.4% to $24.42 per ounce, adding to the 4.3% gain last week and the fifth consecutive weekly increase.
"The inflationary pressures remaining in the market will be an underlying supportive factor for gold and silver in the weeks and months ahead,"
said an analyst
.
"Gold and silver's recent strong run of gains received a temporary setback on Friday in response to a sudden bout of taper tantrum following comments by Fed chair Powell," said the
latest note
by derivatives platform Saxo Bank's Strategy Team.
Federal Reserve Chair Jerome Powell said the US central bank should begin reducing its asset purchases soon but should not yet raise interest rates because employment was still too low.
"The risks are clearly now to longer and more persistent bottlenecks, and thus to higher inflation," Powell also said on Friday, acknowledging persistently high inflation.
"The sharp rebound in commodity prices is turning out to be more pronounced than previously projected," agreed Ayhan Kose, chief economist and director of the World Bank's Prospects Group, which produced the
Outlook report
published last Thursday.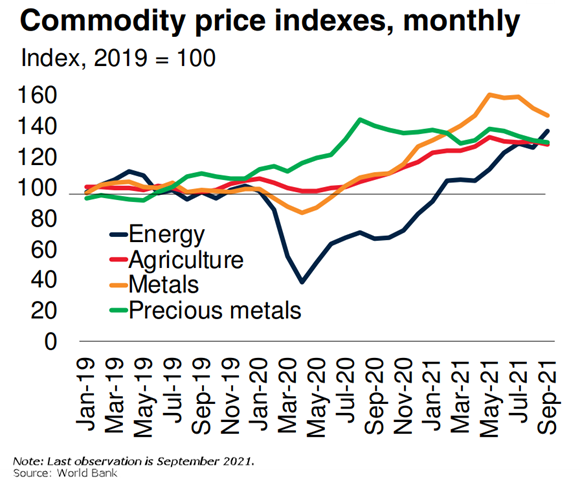 "The surge in energy prices poses significant near-term risks to global inflation and, if sustained, could also weigh on growth in energy-importing countries," Kose said.
Brent crude futures rose by 1%, to $86.34 a barrel, after touching $86.43, the highest price since October 2018. It followed last Friday's 1.1% gain.
Meanwhile, US West Texas Intermediate (WTI) crude futures rose 1% to $84.62 a barrel after gaining 1.5% on Friday. Monday saw the highest levels since October 2014 at $84.76.
"On a 12-month basis, the inflation rate will remain high into next year because of what's already happened," Treasury Secretary Janet Yellen answered Sunday on a question when she expects inflation to get back to the 2% range considered acceptable.
"But I expect improvement... by the middle to end of next year, second half of next year."
US inflation hit 5.4% at the end of September, the highest in 13 years.
Gold prices for UK investors rose 0.6% to £1310 per ounce, amidst petrol prices soaring to an all-time high on Sunday, reaching 142.94p a litre.
European gold prices also rose 0.9% to €1553 per ounce, while the Euro weakened against the US dollar in FX markets, amid German business confidence taking another hit in October reaching the lowest level in six months ahead of the European Central Bank decision on Thursday.
Gold prices on the Shanghai Gold Exchange meantime reduced a premium to London to $0.20 per ounce on Monday, the smallest in 2 months, after wholesale bullion in the metal's No.1 consumer market increased the weekly average to $8 last week.
China locked down a county that has seen the most Covid-19 cases in the nation's latest delta outbreak, as an initial flareup in the northwest quickly spirals into a nationwide surge.
No.5 gold-consumer nation Turkey 's lira hit record lows on Monday after President Recep Tayyip Erdogan over the weekend threatened to expel ambassadors of 10 foreign countries, including those of the US and Germany.
The currency, having already hit a record low the previous week after Turkey's central bank cut its key interest rate despite growing inflation, has fallen 24% against the US dollar so far this year.
Erdogan's threat to expel the diplomats came after the 10 countries published a joint declaration last week that called for the release of the jailed businessman and philanthropist Osman Kavala.