Gold Prices Rally on Weak Economic Data, Ignore US-Turkey Tensions as Brexit Whips Sterling
Wednesday, 10/16/2019 14:25
GOLD PRICES reclaimed last week's closing level in Dollar terms Wednesday as tensions between Nato military alliance members the US and Turkey worsened over Syria and Iran, while new data showed US retail sales defying analyst forecasts and falling in September for the first time in 7 months.
Popping $10 higher to $1490 per ounce, gold prices also erased this week's previous 0.8% drop against the Euro currency, rising to €1350.
UK gold prices in Pounds per ounce
continued to whip violently, losing and regaining £15 inside an hour as Sterling see-sawed on the FX market amid rumor, counter-rumor and media guesswork over the state of Brexit talks between London, Dublin and Brussels ahead of this weekend's key European Union summit and then the 31 October deadline for Britain's exit from the 28-nation trading bloc.
That saw the Sterling gold price trade back at £1165, still down more than 9% from last month's fresh all-time record as hopes of a deal – any deal – push speculators to close their bearish bets against the Pound.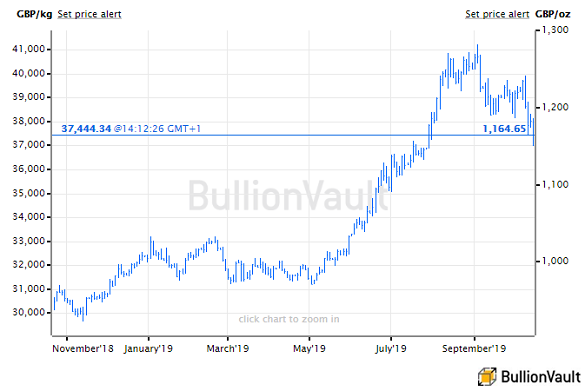 "China [also] caught traders off-guard," says Bloomberg today, "with a surprise injection into the financial system" made by lending the equivalent of $28 billion in 1-year loans.
The PBoC's move comes before the release of third-quarter GDP data this Friday, expected to show growth in the world's second-largest economy slowing further to multi-decade lows.
Beijing won't however repeat its massive fiscal and monetary stimulus of a decade ago, reckoned
Financial Times
' columnist James Kynge speaking at this week's London Bullion Market Association conference in Shenzhen, because policymakers know
it would boost China's housing bubble
, where the average home already costs more in terms of average incomes than any other country in 2019.
Inflation in the 19-nation Eurozone meantime
missed analyst forecasts Wednesday
by slowing to 0.8% in September according to new data, while the 330-million citizen currency union also imports fall faster than exports.
Geopolitical risk and negative bond yields "were obviously key tailwinds" for the gold price in the 18 months up to mid-2019, said brokerage INTL FCStone's Rhona O'Connell to CNBC Asia today.
While gold prices at first failed to respond, "the lid of the pressure came off" in the summer says O'Connell, taking bullion to the $1500 level where it's already
"absorbed a lot of risk"
and so is now "taking a breather" even as Middle Eastern tensions worsen.
Lambasting domestic opponents
overnight on Twitter
, as well as the impeachment process against him, US President Donald Trump also threatened sanctions against Turkey over attacking former US allies the Kurds in north-eastern Syria – an incursion previously approved by the White House with the withdrawal of US troops from the region.
Turkey's leader Recep Tayyip Erdogan responded by saying he will not now meet Trump as planned this week, while widespread reports show
Russian troops patroling the area
and moving into former US-held sites.