Gold Prices Steady from 10% Plunge as US Deploys Bombers Near China, France Deploys Navy Near Turkey
Thursday, 8/13/2020 14:29
GOLD PRICES steadied in Asian and London trade Thursday, holding in the calmest range since the start of last week after reclaiming 1/3rd of the $210 plunge from last Thursday's fresh all-time high at $2075 per ounce.
Spurring
record gold trading volumes
by sinking just over 10.2% from that new peak to this week's low, gold prices marked their 10th steepest drop of the last half-century according to analysis by Rhona O'Connell at brokerage StoneX.
The United States meantime
deployed three B-2 stealth bombers
to the Indian Ocean island of Diego Garcia, the 1st such move in 4 years and "designed to intimidate Beijing" according to Hong Kong's
SCMP
newspaper "as [China] ramps up its live-fire military exercises" near US-ally Taiwan.
"
France stokes Turkey tensions
by sending naval vessels to waters off Cyprus," adds the
Financial Times
, reporting that Paris now "backs Greece in row with Ankara over oil and gas exploration in a disputed area" of the eastern Mediterranean.
Asian stock markets closed higher for the 3rd day running, but European equities snapped their 4-session winning streak to ease back 0.5% by lunchtime in London.
"Real US Bond yields have [also] headed lower (i.e. more negative) over the past 24 hours," says strategist at the mining industry's World Gold Council, pointing to the rate of interest offered to new buyers of Treasury bonds after accounting for inflation expectations.
"[That is] helping gold stabilise I believe."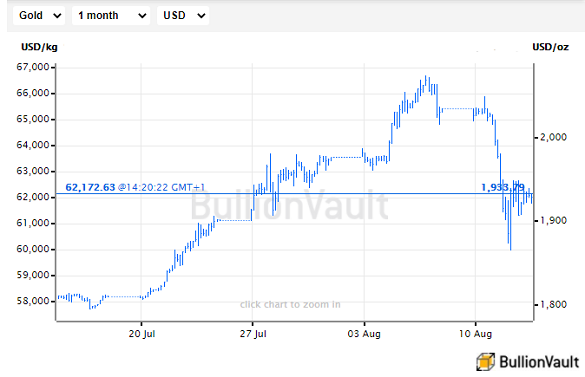 Having dropped further than gold,
silver prices
were firmer still today, ticking up to recover half of the last week's 21.0% plunge from a 7-year high just 15 cents below $30 per ounce.
"Another wild ride for the precious on Wednesday," says today's note from Swiss refining and finance group MKS's Asian desk, "with some particularly volatile trading in Asia.
"With both equities and bond yields [then] extending gains through the session, the yellow metal came under selling pressure again, sliding into a [New York] close at $1920."
With each contract representing 100 ounces, that takes the margin cost above 10% of total notional value.
Physical bullion settled in London today held around $1930 per ounce, a fresh record high when first reached in the last week of July.
"We are at last seeing something of a correction in the gold price's bull run, and about time too," says O'Connell at StoneX.
"It is important to retain a sense of perspective...$2000 is only a number [and] well within the uptrend that developed in February. [This is] a retreat into the prevailing uptrend...and to sever [that] uptrend convincingly would mean dropping to $1807."