Gold Prices Rise 3rd Day as US Debt Ceiling 'Blocks Fed Rate Hikes', Dollar Falls
Tuesday, 7/18/2017 12:47
GOLD PRICES rose sharply for the third session running in London on Tuesday, gaining as world stock markets fell, commodities rose, and interest rates on major government bonds retreated to new lows for July.
Silver stalled at $16.14, unchanged from Monday's jump, while platinum gave back $10 per ounce from yesterday's spike to 1-month highs at $934.50 per ounce.
Peaking above $1238, gold priced in US Dollars recovered almost the last of this month's earlier 3% loss, driven by "technical follow-up buying" after breaking above the "important" 200-day moving average according to a commodities note from German bank Commerzbank.
"The weak US Dollar is also playing its part – it has depreciated to a 14-month low against the Euro."
Looking at US interest rates, "[Last week's] unexpectedly dovish tone from Fed Chair [Janet Yellen] and weaker than expected CPI [inflation] data raised questions on the Fed's ability to stay its course," says a note from Canadian
brokerage T.D.Securities
.
The market's previously "hawkish interpretation of the June [Fed] meeting statement and resultant slide in gold close to $1200 appeared a little incongruous to us," agrees precious metals strategist Tom Kendall at Chinese-owned investment and bullion clearing bank ICBC Standard.
"In addition, the debt ceiling will start to dominate headlines as we move through the northern hemisphere summer," he adds, predicting that the 2017 discussions "will not be as disruptive as 2011" – when Congress' delay saw ratings agency
S&P downgrade US debt and gold hit all-time record highs
– but will prove more fractious than either 2013 or 2016.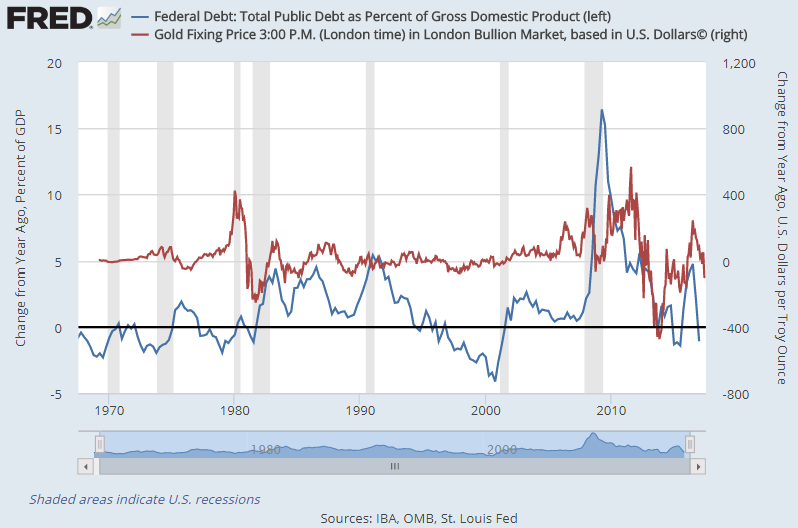 Staff from US Treasury Secretary Steve Mnuchin's office rang major bond dealers on Friday, Bloomberg reports, to deny "secret plans" to repay debt ahead of paying state-sector salaries if Congress and the Senate fail to agree a higher debt ceiling when the current limit is reached in October.
Having said a debt-ceiling crisis looked "unlikely" only this March,
ratings-agency Fitch now says
the plan would force it to review Washington's triple-A status.
President Trump's plan to repeal and replace ex-president Obama's Affordable Care Act
failed to pass the Senate yesterday
after two Republican politicians withdrew their support, saying the new proposal "doesn't go far enough" and costing the party its majority in the lawmaker chamber.
"In our view," says Kendall at ICBC Standard Bank, "the Fed is unlikely to be able to increase rates again soon, possibly not again this year, and it will certainly not rush to reduce its balance sheet."
Betting on next week's Fed rate decision currently sees 97% odds of "no change" at the current ceiling of 1.25%,
according to data compiled
by futures exchange the CME.
Betting on a rate rise at the following meeting in September has meantime retreated by one-third from this time last week, with the likelihood of "no change" rising near 92%.
With the Dollar falling once again Tuesday on the FX market, gold priced in other currencies failed to rise as sharply as for US investors.
Euro gold prices reversed all of Monday's 0.6% gain, while the Yen price halved its 0.7% jump.
The
UK gold price in Pounds per ounce
pushed higher, however, nearing 2-week highs above £950 after new consumer-price data showed inflation retreating last month to 2.6% per year – down from May's pace of 2.9% and well below analyst forecasts for a new 3-year record – denting expectations that the Bank of England will end it record-low interest rate policy.