Gold Prices Slip, 'Flood of Scrap Selling' Forecast as Mining Sees 'Exploration Boom'
Tuesday, 5/26/2020 14:21
GOLD PRICES slipped near 2-week lows in London trade Tuesday, dropping to $1720 per ounce as world stock markets rose amid mixed news over consumer gold demand and the possibility of a surge in supply from both mining and scrap selling as major economies move to relax their Covid-19 lockdown rules.
"With an excess of secondary metal supply," says a note from analysts SFA (Oxford)
for German refining group Heraeus
, "[plus] a steep drop in jewelry demand and weaker central bank demand, it seems gold's time at the top might be drawing to a close."
But "an
increase in recycling volume
threatens to flood the market now that [lockdown] restrictions are gradually lifting and the gold price is still high," reckons SFA's note for Heraeus.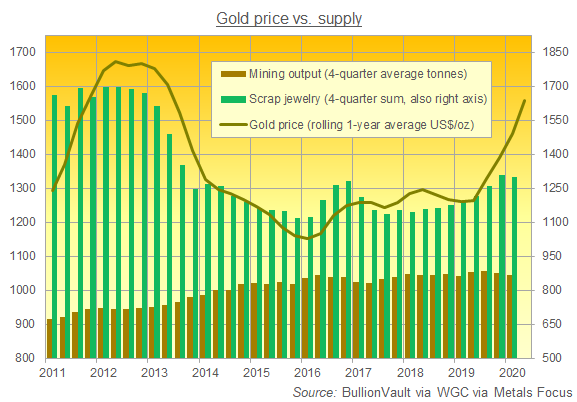 Gold shipments into India – the metal's No.2 consumer nation – fell for the 5th month running in April, new data showed today, sliding near zero from the equivalent of almost $4 billion in the same month last year.
"The decline in gold imports,"
says ZeeNews
, "has helped in narrowing the country's trade deficit to $6.8bn during the last month as against $15.3bn a year ago."
Stocks at jewelry stores "remain unsold due to the lockdown,"
reports the Times of India
from the western city of Pune, with footfall remaining very low now that shops have re-opened with lockdown rules being eased.
"The global gold market has been turned on its head by the novel coronavirus," says Reuters, "with demand in China and India collapsing due to lockdowns while in the West investors rushed to buy bullion as a safe asset to weather a period of financial turmoil."
Typically receiving less than 1 tonnes per month of gold bullion from global refining center Switzerland, the United States in April accounted for 85% of last month's 132 tonnes of Swiss gold exports.
"Switzerland meanwhile shipped [just] 0.5 tonnes of gold to India, 1 kilogram to Hong Kong and
no gold at all to China
," says Reuters.
No.1 gold miner and consumer nation China last month became a net exporter of bullion via its key trading point of Hong Kong for the first time since January 2011, the newswire adds.
"The gold price was trading at too big a discount compared to the overseas price," says analyst Samson Li at Refinitiv GFMS, "so gold imports fell a lot because supply inside the country is abundant already."
Shanghai gold prices today held $17 per ounce below comparable London quotes, extending the record run of China-to-London discounts starting with the Asian giant's anti-virus lockdowns in February.
No.2 gold-mining nation Australia has meantime seen a surge in exploration spending, says Bloomberg, with record sums spent on the hunt for new deposits even before the Coronavirus outbreak, taking full-year 2019's outlay 20% higher from the year before.
"We're on the cusp of a fairly major boom," reckons said Rob Bills, chief executive officer of copper-and-gold explorer Emmerson Resources (ASX: ERM) which today
reported the start of new exploration drilling
at a site in New South Wales.
"Those companies that have got cash will turn the tap on fairly quickly."
Major producer AngloGold Ashanti (JSE: ANG) has in contrast suspended operations at Mponeng – the world's deepest gold mine – after 164 workers tested positive for coronavirus.
Already running at just half-capacity due to South Africa's anti-virus rules, the
temporary halt is "voluntary"
the company said Sunday, so that it can "complete contact tracing and deep clean and sanitize the workplace and key infrastructure."
Global gold-mining giant Barrick (NYSE: GOLD) is meantime
expanding its exploration alliance
with Japan Gold (CVE: JG) to run stream sampling and gravity surveys at sites on 3 of the 5 main islands of Japan, currently source of less than 0.2% of global gold-mine output.