Gold Prices Rise as Fed's Powell Rejects Trump's Call for Negative Rates to Fight Covid Crash
Wednesday, 5/13/2020 14:30
GOLD PRICES rose Wednesday ahead of US Federal Reserve chairman Jerome Powell speaking on the economic impact of the coronavirus lockdown while President Trump pushed for negative US rates, writes Atsuko Whitehouse at BullionVault.
Spot gold prices went up 0.5% to $1711 per ounce Wednesday lunch time in London while the US Dollar fell as traders braced for Powell's comments.
"The evidence on negative rates is mixed," Powell then replied to a question after presenting by webcast to the Peterson Institute for International Economics in Washington.
"For now it's not something we're considering."
His comments came after Donald Trump yesterday pushed the Fed to adopt negative interest rate in a tweet.
As long as other countries are receiving the benefits of Negative Rates, the USA should also accept the "GIFT". Big numbers!

— Donald J. Trump (@realDonaldTrump) May 12, 2020
So far Switzerland, Denmark, Japan and the European Central Bank have opted to impose negative interest rates, forcing commercial banks to accept a loss on some of the cash they put on deposit with the central bank.
"Central banks have already deployed a giant wave of stimulus and are waiting for this lockdown to end to see if that is enough," one FX strategist
said to
Reuters, pointing to speculation that rumors the United States may adopt negative rates will support gold prices.
Other US officials including Richmond Fed President Thomas Barkin and Chicago Fed President Charles Evans have already knocked the idea of negative rates, saying the Fed has no such plans but also calling on Washington for more fiscal help to fight the economic depression caused by the coronavirus lockdowns.
"US unemployment is likely to peak at 20% or higher, and then to fall only to between 8% and 10% by year's end," said Dallas Federal Reserve Bank President Robert Kaplan on Tuesday. The unemployment rate was 14.7% in April.
"There may well need to be more fiscal stimulus in order to boost economic growth so that we can grind down that unemployment and get closer to full employment,"
he continued
.
Other Fed policymakers including Richmond Fed President Thomas Barkin and Minneapolis Fed President Neel Kashkari echoed Kaplan's view.
UK gold prices held flat at £1389 per ounce as the UK economy shrank almost 6% in March as the nation went into lockdown, plunging into what may be its deepest recession in more than three centuries. The Bank of England forecasted a staggering 25% contraction this quarter.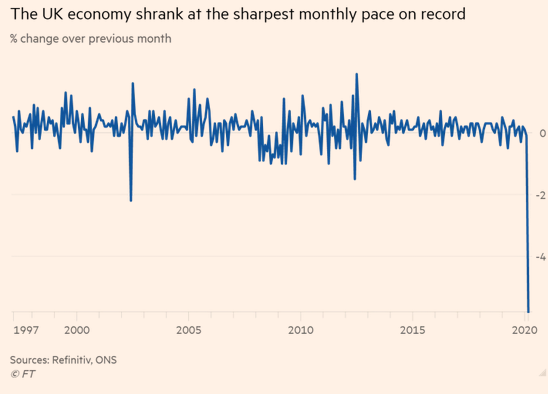 The UK lockdown was imposed on March 23, meaning only about a week of the month was affected. As for the first quarter, UK economy contracted by 2%, the worst since the financial crisis.
This news came after the UK furlough scheme was extended by four months on Tuesday. Under this scheme, the UK Treasury is paying a quarter of the workforce which equates to around 7.5 million people, at a cost £14 billion a month.
Gold prices for European investors edged higher by 0.2% to €1573 per ounce as the Euro continued to suffer in the FX markets against major currencies after Eurozone industrial production dropped to the largest monthly decline on record in March 2020.
The Euro is the worst-performing currency in advanced economies since the mid-March peak of this year's market turmoil as Europe's inability to mount a long-term joint fiscal defence against the economic shock from the coronavirus starkly contrast with trillions of dollars of stimulus unveiled by the US and Japan governments.
Back to the USA, leading US infectious disease expert Anthony Fauci on Tuesday warned lawmakers that a premature lifting of lockdowns could lead to additional outbreaks of the deadly coronavirus. 80,000 Americans have died due to the virus and a treatment or vaccine is unlikely to be in place by late August or early September 2020.
Wall Street stocks fell last night following Fauci's comments to the Senate.
A leading US Republican senator meantime proposed legislation that would authorize President Donald Trump to impose sanctions on China if it fails to give a full account of events leading to the outbreak of the novel coronavirus.
Silver prices rose 0.8% to $15.57 per ounce on Wednesday, pushing the Gold/Silver Ratio of the two metals' relative prices down to 109, the lowest in one month.
Platinum also went up 0.8% to reach $766 per ounce.