Gold Holds 'Either Side of $1500' as T-Bonds Sell Off, Stocks Sink 1/3rd in a Month, Commodities Hit 1976 Prices
Wednesday, 3/18/2020 14:30
GOLD PRICES held firm at $1500 per ounce Wednesday lunchtime in London even as the US Dollar hit new 3-year highs on the currency market amid a fresh slump in world stock markets as economic activity shuts to try stemming the spread of SARS-CoV-2.
Major government bond prices also sank with equities as gold prices steadied, driving the yield offered by 10-year US Treasury bonds back above 1.0% – a record low when first hit 2 weeks ago – as the Trump administration sought backing for a $1 trillion package of aid and loans for households and business to stay solvent during the virus crisis.
Industrial and other natural resources meantime sank yet again, with US crude oil benchmark WTI hitting its cheapest since 2003 below $25 per barrel.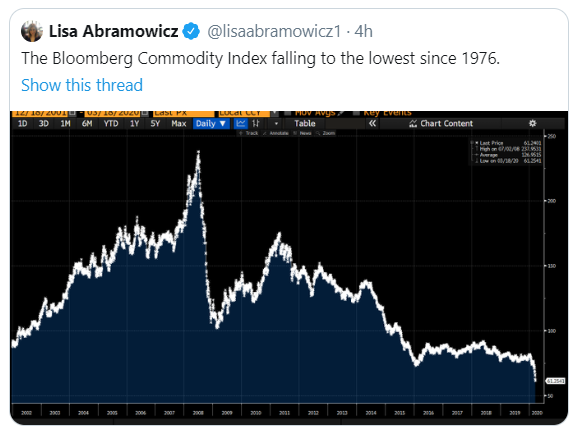 "Gold has so far consolidated either side of the $1500 level on heavy volumes and remains volatile," says the Asian trading desk at Swiss refiners MKS Pamp.
"Silver has followed a similar trajectory to gold, pushing higher but then being sold off aggressively. PGMs have been moving around erraticcally again and liquidity is none existent."
Platinum-group metals today held near 17-year and 7-month lows respectively for platinum and palladium.
The Gold/Silver Ratio
of the two former monetary metals relative prices today touched 123, a new all-time for the dearer metal against its more industrially useful cousin.
German 10-year Bunds meantime fell in price to cost new buyers just 0.28% per annum, the least negative yield in 2 months.
The worst-hit nation for Covid-19 outside China, Italy today saw the government promise €500m to assist the country's airlines, creating a new company – Newco – to
rent planes and equipment
from existing carriers led by Alitalia, now grounded by Italy's near-total quarantine.
Gold priced in the Euro recovered last weekend's level at €1382 as the 19-nation currency fell against the Dollar as the
EuroStoxx 600 index fell over 4.5%
, taking its plunge from this time last month to more than one-third.
London's FTSE All Share meantime sank to its lowest level since May 2012 as UK Prime Minister Boris Johnson extended a mortgage holiday for home buyers to include
a block on renters being evicted
during his suggested 'please stay home' period.
Back in Washington, and with today's scheduled
Fed meeting and announcement cancelled
after 2 dramatic cuts to rates and new QE already this month, the US central bank yesterday set up 2 new facilities, one to fund $10bn of commercial paper debt (the CPFF) and the other to make 90-day or shorter-term loans to "primary dealer" banking institutions (the PDCF).
Initially pitched at $850bn, the Trump White House's emergency package will in fact
total at least $1 trillion
, according to Treasury Secretary Steve Mnuchin.
Asking lawmakers to back $250bn for small-business loans and $500bn for aid and pay-roll tax cuts for households, "This is not like a normal economic situation," he said.
"The government has requested that parts of this economy shut down."
Here in the UK meantime, new finance minister Rishi Sunak yesterday promised £330bn of emergency lending and aid, raising total government spending by
75% above the 2020-21 figure
set out in his first Budget, announced only a week earlier.
"Mr.President, the
only answer is to shut down the country
for the next 30 days and close the borders," said activist investor Bill Ackman, founder and CEO of the $8bn Pershing Square Capital Management funds, on Twitter.
"Tell all Americans that you are putting us on an extended Spring Break at home with family. Keep only essential services open. The government pays wages until we reopen. No one defaults, no one forecloses."
Back in gold investing, holdings in the giant GLD
gold-backed ETF
were unchanged Tuesday, snapping 5 sessions of investor outflows.
The next largest US gold ETF shrank for the 3rd session running, however, with the iShares IAU product now shrinking 1.8% from last Thursday's fresh record peak.
No.1 physical platform BullionVault meantime saw
client gold holdings rise to 40 tonnes
, a new all-time record, with net demand so far this month hitting its highest since the depths of the global financial crisis in March 2009.