Gold Prices 'Not Yet in Bull Market' as Bids Below $1555 Support in Asian Trade
Thursday, 1/16/2020 14:57
GOLD PRICES moved sideways above $1550 per ounce in London trade Thursday as world stock markets held flat overall following yet another record finish in US Dollar terms.
Bond prices rose, sending longer-term interest rates lower again, after Wall Street finished last night at new all-time highs as US President Trump and China's vice-premier Liu He signed a 'phase one' trade deal in Washington, formalizing a truce in the 'trade war' starting in mid-2018 but
leaving many of the tariffs
imposed since then in place.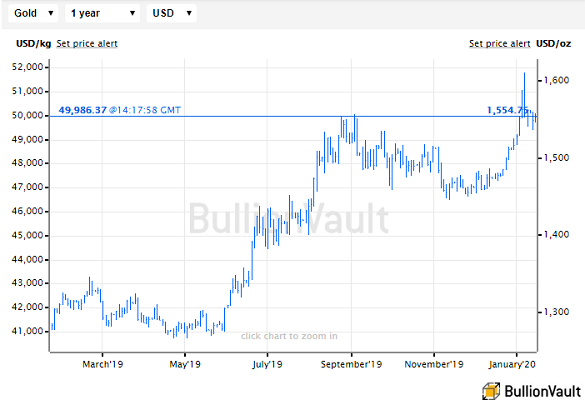 Now facing impeachment trial hearings in the US Senate,
Trump "knew exactly
what was going on" with his attempt to 'dig up dirt ' on former US vice-president Joe Biden and his son in Ukraine.
Russian President Putin today saw his chosen prime minister, Mikhail Mishustin,
approved unanimously by lawmakers
in the Mosow parliament after the former KGB operative moved to extend his political rule beyond the current 2024 deadline for stepping aside.
Nato-member Turkey is meantime
sending troops to war-torn Libya
as part of peace-keeping efforts including talks between the oil-rich nation's opposing factions.
"Historically, gold price rallies driven by geopolitical events are quite short-lived," Bloomberg today quotes Michael Bradshaw of US banking giant Wells Fargo's asset management team.
"There will likely be some volatility and downside to gold prices after the US-China trade deal was signed."
"By no means is gold in a bull market yet," adds Peter Grosskopf of Canadian brokerage Sprott Inc, calling precious metals only "a decent market" at present, and saying that only a surge of new gold-mining stock issues will signal the next up-phase, because "[it] will indicate that outside investors are piling into the sector."
New data Thursday said Germany's consumer-price inflation held at 1.5% last month, and growth in US retail sales was also steady as expected.
Japan's latest machinery orders' data showed a surprise jump, while machine-tool orders slowed their slump.
China's average house price slowed to end 2019 some 6.6% higher for the year, Beijing's official data agency said, while bank lending grew in line with analyst forecasts in December.
"Gold found interest on any dips" in today's Asian trade, says the bullion desk at Swiss refining and finance group MKS Pamp, "with resting bids toward $1555 restricting any further declines.
"However, a lack of follow through interest saw the metal top out around $1558."
The UK gold price in Pounds per ounce
held little changed near £1190 as Sterling touched 1-week highs against the Dollar above $1.30 – a three-decade low when hit in the aftermath of the 2016 Brexit referendum shock.
Now set for 31 January, the UK's exit from the European Union is a "wake up call" for the EU, said Germany's Chancellor Merkel yesterday, urging the bloc's political leaders to make it "more attractive, innovative, creative, a good place for research and education...Competition can then be very productive."
Meeting European Commission president von der Leyen today, Irish taoiseach Leo Varadkar said the
UK must abide by a "level playing field"
after Brexit, rather than trying to "undercut" its former EU partners with a low-regulation economic model.
Euro gold prices also held below last week's finish, trading at €1393 per ounce, 3.5% below last week's new record high, hit on Iran's retaliation against US targets in Iraq for killing Qasem Soleimani.
Platinum prices
meantime retreated $35 per ounce after spiking to $1041 – the highest in nearly 2 years – amid fresh all-time record highs in sister metal palladium above $2290.