Gold Prices Fall from $1960 as Inflation Outlook Breaks 2.0% on US Stimulus, Beijing Battles Dollar Plunge
Wednesday, 1/06/2021 14:33
GOLD PRICES fell from new 9-week highs Wednesday, tumbling 1.7% in Dollar terms as the US currency rallied from 2.5-year lows even as longer-term interest rates retreated with US tech stocks – the big winners of 2020's Covid crisis – following much worse-than-expected US jobs data.
Private-sector
payrolls firm ADP
said the world's largest economy lost 123,000 jobs last month, rather than adding 88,000 as analysts forecast.
Gold prices earlier came within 25 cents of $1960 per ounce as the 'run-off' vote in
Georgia elected Raphael Warnock
as the state's first African-American senator, with early results in the state's other seat suggesting his Democrat Party will take overall control of the Senate, enabling president-elect Joe Biden to push through larger stimulus and borrowing plans.
Ten-year US Treasury bond yields slipped 1 basis-point on the ADP data after touching 1.03% – the highest since last March's Covid Crash across global financial markets, reached as crude oil also touched 10-month highs above $50 per barrel following a new output cut agreed by the Opec+ cartel of producer nations.
This morning's peak in gold – its highest price since
the day in November that Pfizer
became the first pharmaceutical firm to announce a successful vaccine against the novel coronavirus – came as longer-term inflation expectations, as shown by 10-year breakevens in the US bond market, rose above 2.0% per annum, the highest in 26 months.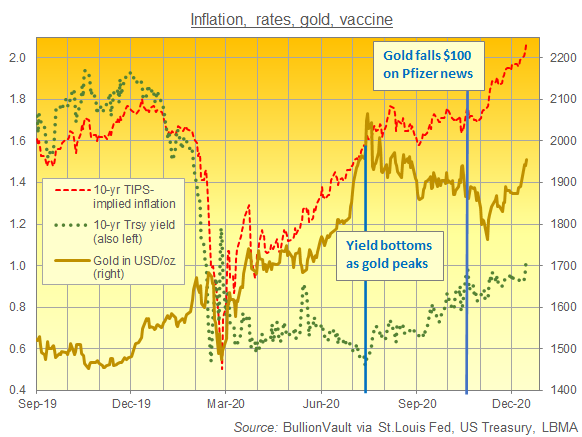 "We think the broader macro environment for gold remains very supportive," said Asian bank and London bullion market-maker Standard Chartered's Suki Cooper to Bloomberg today, pointing to "low interest rates, accommodative monetary policy and fiscal stimulus."
"We're going to see further Dollar weakness into this year and that continues to set a favorable backdrop for gold."
Gold prices in Shanghai – entry point for bullion into the metal's No.1 consumer market – today rose to their highest since 9 November, but the price discount to London quotes widened from $10 per ounce to almost $15, signalling a continued glut of supply over demand with barely 5 weeks to go until the key shopping and gifting festival of Lunar New Year.
The Shanghai discount widened even as the Yuan rose for a 3rd day running on the FX market, reaching its highest rate against the US Dollar since June 2018.
Accused of widespread human rights abuses at home, including the internment of 1 million Uighur Muslims, China must
"make continued and sustained efforts"
on forced labor according to the 'comprehensive agreement on investment' with the European Union concluded last Wednesday between Chinese President Xi Jinping and European Commission President Ursula von der Leyen – the same day
she signed the post-Brexit trade deal
with Hong Kong's former colonial ruler the UK.
The EU's press releases on both the UK and China deals use the phrase "level playing field" three times each.