Gold Prices Hit $1950 as Covid's Winter Wave Worsens, Interest Rates Sink Below Inflation
Tuesday, 1/05/2021 13:30
GOLD PRICES topped new 8-week highs at $1950 per ounce in London trade Tuesday, rising again as European stock markets followed New York and Asia lower amid the fast-worsening winter wave of Covid-19.
Interest rates on major government bonds meantime ticked higher ahead of the
Senate "run-off" vote
in the US state of Georgia, with a possible Democrat win meaning that incoming President Joe Biden would face less resistance to his massive borrowing and stimulus plans.
Rising above $1950 for the first time since November 9th's Pfizer
vaccine news crushed gold
by $100 per ounce, bullion prices have now risen 2.5% so far in 2021.
Despite the rise in US Treasury yields today, the rate of inflation implied by 10-year TIPS bonds rose faster, edging above 2.0% for the first time since spring 2018 and driving the real rate of interest down below minus 1.08%, the multi-decade low hit when gold prices peaked above $2000 per ounce last August.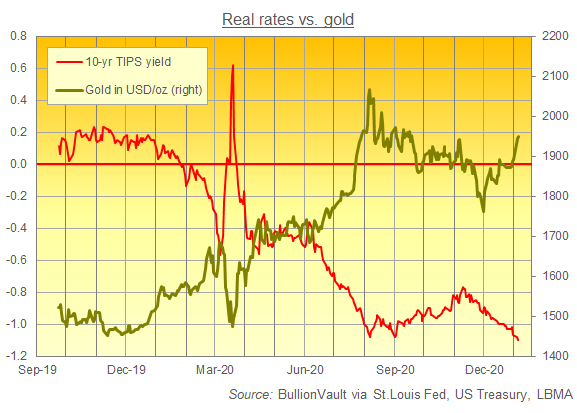 Gold priced in the Euro also rose steeply on Tuesday, up 2.1% from last weekend to touch a 7-week high of £1587 – a new record high when first reached in mid-April.
"Gold and silver are attemping to extend upon Monday's firm price action," says today's Asian trading note from Swiss refining and finance group MKS Pamp.
"Gold was subject to modest profit-taking leading into [Tuesday's] Chinese open...[where] the on-shore discount in Shanghai held toward $10 and provided little in the way of directional flow."
Prior to the start of the Covid Crisis last New Year, gold prices in China – the metal's No.1 mining and consumer nation – showed an average $9 per ounce premium to London quotes.
But Shanghai has now offered a disincentive to new imports from London, suggesting a glut of supply over demand, without break since 24 March, the day after the UK – home to the world's central gold trading and storage hub – imposed its first anti-Covid lockdown.
Nine months after the aviation industry called for Covid tests to reduce transmission, Britain will also make a negative result compulsory "for some travellers to the UK"
according to
The Independent.
"The ban on flights out of South Africa", where a new variant of Covid-19 may render some of the new vaccines less effective, "is going to hit precious metals exports," Reuters quotes analyst Rhona O'Connell at brokerage StoneX, "[because] gold, platinum and palladium are transported by air, and the majority of that is on passenger flights."
Imports into No.2 gold consumer India sank last year to theirlowest since the global economic recession of 2009, new data showed today,
So-called crypto-currency Bitcoin meantime
rose to $31,000
– a new all-time high when first reached on Saturday – after plunging 14.5% from Sunday's new top above $34,000.