Gold Sets New Record for 'Dangerous UK', Silver Surges to 2013 USD Level as Shelton Steps Nearer the Fed
Wednesday, 7/22/2020 16:19
GOLD PRICES shot higher overnight Wednesday as Asian stock markets fell, jumping $20 per ounce to reach new 9-year highs in US Dollar terms – and setting new records in British Pounds, the Indian Rupee and a host of other 'emerging market' currencies – as silver extended its dramatic surge.
European stock markets slipped back from yesterday's 4-month high, reached after political leaders from the 27 nations of the European Union agreed a stimulus and aid package with €1.8 trillion, with jointly issued bonds and taxes to repay them – details as yet unclear.
Gold today hit $1865 per ounce – less than 3% below September 2011's all-time top – while silver peaked through $23 for the first time since October 2013, up 97.9% from mid-March's Covid Crash low.
It also followed the approval by the Senate Banking Committee of Judy Shelton, a
long-time "sympathiser"
of returning the United States to some kind of gold-backed currency system, as
a possible candidate
for joining the Federal Reserve's policy team.
With US interest rates now expected to lag inflation in the cost of living by 1.2% per year until 2025 – widened from barely zero in January – gold priced in US Dollars has now risen more than 50% since summer 2018, when the metal bottomed beneath $1200 per ounce, its fastest 2-year gain since New Year 2012.
Gold has also now risen $400 per ounce from March's Covid Crash, its steepest 17-week gain since the very tops of 2011 and before that 1980.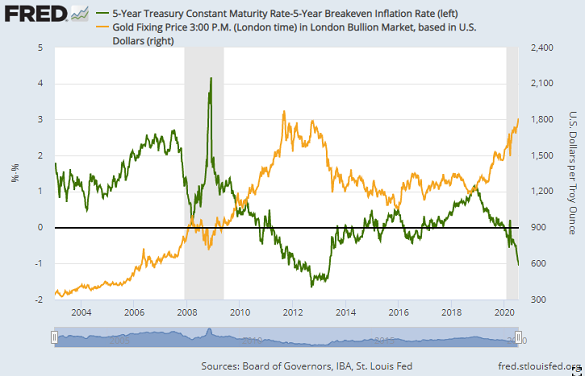 "Silver refuses to be left behind by gold's bull run," says Reuters, quoting comment from a spreadbetting bookmaker and a trading tips service.
"Silver's potential exposure to green stimulus is
now an important tool
in its armory," says a note from Canadian financial group BMO, pointing to solar-panels and other 'green energy' technology using the gray metal.
Euro gold and silver prices rose less dramatically overnight and Wednesday morning as the single currency extended its rise on the FX market following the EU deal.
"Spending plan offers lifeline to troubled South," says the Wall Street Journal of the forthcoming loans and grants to the economic bloc's southern members.
"A year after the Government proclaimed the abolition of poverty," says think-tank Istituto Bruno Leoni, "Italy is [today] cheering the fact that it has officially
entered the list of assisted countries
...switching from a net contributor to the EU budget to become net beneficiaries."
Now the 3rd largest economy in the EU after the UK's exit from No.2 spot, Italy's sovereign credit was
downgraded this spring
to 'BBB minus' – one notch above "junk" – by the Fitch ratings agency as the Covid pandemic hit Italy hard.
But the EU's new fund is
a "breakthrough" for the creditworthiness
of member states, says the
Financial Times
, quoting rating agency Standard & Poor's, because it takes the region closer to becoming a "fully fledged fiscal union".
The UK gold price in Pounds per ounce meantime rose to a fresh record at £1465 as Sterling fell yet again on the currency markets.
With 2020's public
borrowing now set for a peacetime record
, the row meantime worsened today over the Conservative Government – now led by Brexit campaigner Boris Johnson – delaying publication of a report it "actively avoided" any investigation of possible Russian interference in the 2016 EU referendum, despite knowing that Moscow had sought to interfere in the previous year's Scottish independence vote, until after last December's General Election.
"People are free to write on social media what they like," said Transport Minister Grant Schapps to the BBC this morning when asked about Russian-funded accounts.
"Money managers say
the UK is a dangerous place
to invest," reports Bloomberg, "because of the impending cliff edge of a no-deal Brexit at the end of the year...The chances of a deal being reached by the August [deadline] are fading fast."