Gold Price Jumps Back Over $2000 as 'Turn It Off' Trump Lauds New Nasdaq Record
Tuesday, 8/18/2020 14:35
GOLD PRICES rose through and $10 above the $2000 per ounce level in London trade Tuesday, peaking $65 below early August's record spike as world stock markets also rose following last night's fresh all-time high in New York's Nasdaq index of US tech stocks.
Silver meantime outpaced gold prices once more, rising back above $28 per ounce after breaching that level for the first time in over 7 years less than 2 weeks ago.
Real US bond yields, after accounting for inflation expectations, edged lower again from last week's jump to the highest since late July, when auctions of new US debt saw the Treasury having to pay bond-market lenders a higher rate of interest than analysts forecast.
With total borrowing likely to break $3 trillion in 2020 thanks to the Covid Pandemic shutdowns and aid programs, Washington is
scheduled to raise another
$25 billion in 20-year debt on Wednesday, and another $7bn in 30-year inflation-protected bonds on Thursday.
"In normal times, something like this would probably never happen. But these are not normal times," said former US Republican governor of Ohio John Kasich overnight, urging voters to back the Democrats' Joe Biden against current president Donald Trump in the 2020 election, scheduled for November.
Re-tweeting claims that Kasich is "a backstabber...an untruthful guy" today, Trump defended his economic and pandemic record while attacking Biden as well as Michelle Obama – wife of his presidential fore-runner and a key speaker at last night's opening of the 2020 Democratic National Convention.
....My Administration and I built the greatest economy in history, of any country, turned it off, saved millions of lives, and now am building an even greater economy than it was before. Jobs are flowing, NASDAQ is already at a record high, the rest to follow. Sit back & watch!

— Donald J. Trump (@realDonaldTrump) August 18, 2020
While gold priced in Dollars has now risen by 325% over the last 15 years, the Nasdaq index of US tech stocks has gained 406%.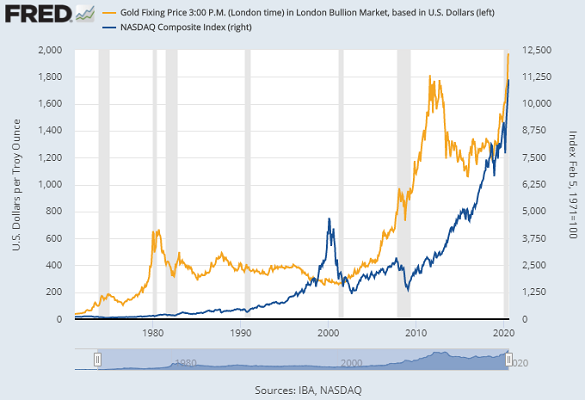 Trading exchange ICE today announced it is "enhancing" its NYSE FANG+ Index futures – which enable speculators to bet on the direction of American tech giants Facebook, Amazon, Apple, Netflix, Google, NVIDIA, Tesla, Twitter and Chinese giants Alibaba and Baidu – "by significantly reducing the size of the contract...making it
far more accessible to both retail
and institutional investors."
That's equal to 1/2 and 1/4 respectively of 45-year old brokerages TD Ameritrade (NASDAQ: AMTD) or Charles Schwab (NYSE: SCHW).
"It is therefore our duty to equip them with the means to service that debt," the ex-ECB boss said, calling investment in education "critical for growth and [needing] immediate action."
Gold priced in the Euro today rose back to €1685 per ounce, a new all-time high when first reached at the start of this month, while the
UK gold price in Pounds per ounce
reached £1524, also a little over 3% below early August's fresh record peak.
With cities and nations around the world meantime re-tightening social distancing measures as new infections rise – such as France making face-masks compulsory in workplaces, and South Korea
shutting bars and restaurants
– footage emerged of a weekend 'pool party' attended by thousands of young people in the Chinese city of Wuhan, source of the novel coronavirus last winter, where the government says no new cases have been recorded since May.
The venue, Wuhan Maya Beach Water Park, is currently offering half-price entry to female visitors as part of a tourism drive from Hubei's provincial government.
Local authorities were today
urged to start allocating funds
from China's State Council to small businesses and households, part of the Beijing dictatorship's $290 billion-worth of direct aid, including around $43bn of tax cuts.
Gold prices in Shanghai today touched
new record discounts to London
according to Reuters, trading $100 per ounce below that global benchmark as very poor demand continues to meet ample supply in the metal's No.1 mining and consumer nation.