Gold Price Flat as Western Stock Markets Rebound, China's Bullion Demand Rises
Monday, 12/06/2021 14:36
GOLD PRICES eased as Western stock markets rebounded after a volatile week due to the Covid-19 Omicron variant and tighter US monetary policy, while gold demand in the world No.1 consumer market rose while Asian stocks dropped despite China's central bank announcing it will boost liquidity, writes Atsuko Whitehouse at BullionVault.
Spot gold prices edged lower by 0.2% to $1780 per ounce Monday morning in London, as 10-year US Treasury yields – a benchmark rate for government as well as many finance and commercial borrowing cost – moving higher toward 1.4%.
The yellow metal rose 1% last Friday with the benchmark rate dropping below 1.4% for the first time since September 2021 as investors retreated from US stocks following a mixed US jobs report.
Yields move inversely to prices and lower yields mean reducing the opportunity cost of holding non-interest-bearing gold.
"I believe investors are now expecting monetary policy to get more hawkish, and that has historically put downward pressure on tech stocks," said Kristina Hooper, chief global market strategist at
Invesco
.
S&P500 index futures rebounded from Friday's selloff as investors took comfort in reports that cases of the Omicron variant have been relatively mild.
European stocks opened higher on Monday with the pan-European Stoxx 600 up 0.7%, following a rough session in Asia, where the MSCI index of Asia-Pacific share outside Japan lost almost 1%.
Chinese shares ended lower as concerns over the fallout from a likely default by China Evergrande Group overshadowed the central bank's comments on cut in reserve requirement ratios.
The People's Bank of China said on its website it would cut the reserve requirement ratio for banks by fifty basis points, effective from 15th December 2021.
Shares in China's Evergrande plunged 20% after the developer said there was no guarantee it would have enough funds to meet debt repayments, while ride-hailing giant Didi decided to withdraw from its New York listing last week.
Meanwhile, gold demand in China, the metal's No.1 consumer market, increased as prices on the Shanghai Gold Exchange showed a premium to London, increasing to over $10 per ounce on Monday, the biggest incentive to new imports in 2 months.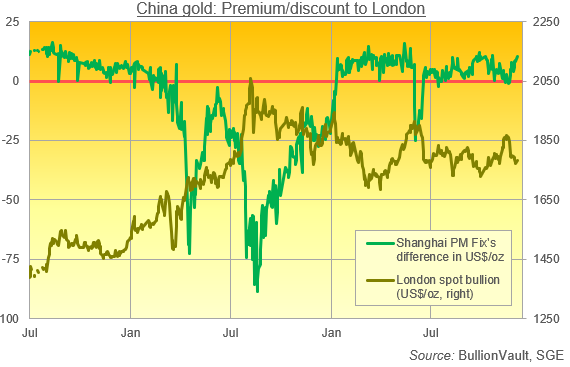 Shanghai's premium to London has so far averaged $4.64 this year after hitting record discounts during the first phase of Covid-19, and fell to a $25 discount early this June following news of new
anti-money laundering laws
.
"Asia, having suffered so greatly in the delta wave, is understandably more cautious and now is also coming to grips with the reality of the Federal Reserve taper as well as China's 'shared prosperity,' property sector and tech-saga travails," said an analyst in the latest note to investors.
In contrast to increasing Chinese demand,
gold-backed ETF trust funds
declined in size last week, as both the SPDR Gold Trust (NYSEArca: GLD) and the iShares gold ETF (NYSEArca: IAU) saw net investor outflows.
The GLD and the IAU cut 0.85% and 0.20% respectively last week to make the first weekly liquidation in 4 and 3 weeks after seeing monthly inflow in November 2021 for the first time since June 2021.
Holdings for GLD and IAU combined have reduced 17% by nearly 300 tonnes in weight from the peak in September 2020.
Latest data show that hedge funds and other leveraged speculators in Comex gold futures and options cut their bullish betting two weeks in a row from the biggest since August 2020 when gold peaked to an all-time high, as a group in the week-ending 30 th November, but left their bearish betting almost unchanged.
Overall, that cut the net long position of Managed Money traders by 12%, adding to 28% of the previous week, to the smallest in 4 weeks.
Speculators also shrunk their net bearish betting against silver for the second week, according to the data published by US regulator the Commodities Futures Trading Commission (CFTC) and reduced its net long to almost flat against platinum prices after cutting 99% from the previous week.
Price for silver, primarily an industrial metal, dropped 0.8% to $22.32 per ounce, while platinum, which also finds two-thirds of its demand from industrial uses, moved sideways at $936 per ounce.