Gold Price Hits 4-Month Low Even as Real US Rates Retreat on Yellen Getting the Treasury, Asian Bargain-Buying AWOL
Tuesday, 11/24/2020 14:44
GOLD PRICE losses of 2.5% from yesterday's plunge worsened in Asian and London hours Tuesday, pulling the metal down to new 4-month lows in wholesale bullion trade as positive economic data and more Covid vaccine news coincided with US President Donald Trump effectively conceding defeat and allowing the transition of White House power to Democrat opponent Joe Biden to begin.
Government bond prices were little changed in contrast, helping inflation-adjusted US interest rates slip to their most negative in nearly 3 weeks at -0.87% as market expectations for the cost of living ticked higher.
But gold prices – more closely tied to real US rates than ever before in summer 2020 – still fell to $1804 per ounce, down 13.0% from start-August's record high of $2075.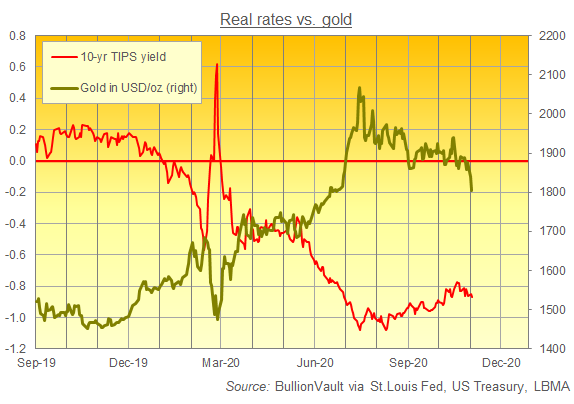 "Janet Yellen as Treasury secretary is
a huge plus for markets
," the
Financial Times
quotes chief investment officer Dan Scott at $300bn wealth managers Vontobel, commenting on Biden's overnight announcement of his key economics team.
Replaced by Trump as US Federal Reserve chair after just 1 term, "She's highly competent and she has a long history in basically understanding...the limitations of monetary policy," Scott adds, meaning that Biden's fiscal stimulus plans will take center-stage.
Stock markets rose everywhere but China, extending the
MSCI World Index's rise
back towards last week's new all-time high.
Silver stabilized after hitting 1-month lows at $23 per ounce, while the price of platinum – which also finds over 50% of its net annual demand from productive uses – rallied to $978, near a 2-month high when reached late last week.
Euro gold prices fell to €1522 per ounce, the lowest since mid-June and 13.0% below the summer's peak.
The
UK gold price in Pounds per ounce
fell to £1353, also a new record high when first reached in March's Covid Crisis but almost 15% below start-August's peak for GBP investors.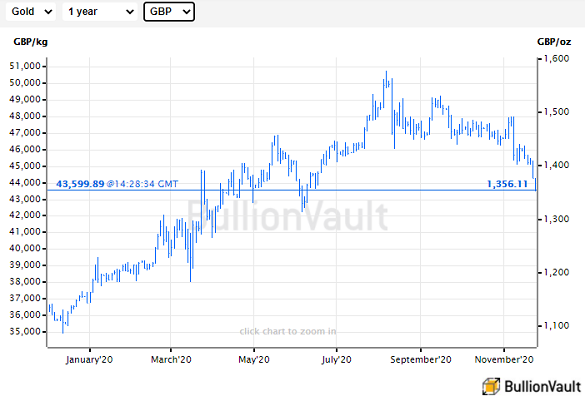 Shanghai gold prices today fell to the lowest since May in Yuan terms, but reduced their discount to London quotes by a dollar to $18 per ounce, suggesting continued weakness in domestic gold demand over supply in China – the metal's No.1 consumer market – as new data showed
a fresh slump in bullion imports
via Hong Kong for October.
"Historically," says chief analyst Rhona O'Connell at brokerage StoneX, "Asian buyers would buy into a falling trend on the perception of value; over the past ten years or so this has changed...purchasers are now more prepared to forego the first 5-10% of a move in favour of confidence in a new upward trend."
While gold prices in India last week rose to show a $4 per ounce premium to London amid a rebound in demand for the Diwali festival, footfall at the No.2 consumer's jewellers continues to stay light as the BJP Government of Narendra Modi debates whether to
impose another national lockdown
amid a fast-worsening 2nd wave of Covid.
Both of the world's largest
gold-backed ETF investment trusts
shrank Monday, with the SPDR product (NYSEArca: GLD) seeing 0.6% liquidation to its smallest since mid-July, while the smaller iShares Trust (NYSEArca: IAU) sawa 4th consective day of outflows.
Open interest in Comex gold derivatives contracts meantime rose. "Given the technical forces in play," says O'Connell, "it is likely that short-side trades were triggered, more so than long liquidation."
Trading volumes in US Comex gold futures and options leapt 69% on Monday from Friday's turnover, reaching the highest since 9 November, when gold prices lost $100 per ounce on the
first Western vaccine announcement
from Pfizer.
Commodities meantime extended Monday's 1.0% gain on the S&P GSCI index today, adding another 0.5% by lunchtime in London with crude oil adding 1.5%, US gasoline 2.0%, and US hearing oil 2.2%.
Going into 2013 – the year of
gold's steep post-financial crisis crash
– gold saw its weighting in the GSCI unchanged at 3.0%, while crude oil was raised to 6.2% and saw strong gains over the first 9 months of the year.