Gold Price Breaks Above 'Psychological' $1900 Ahead of Election 2020 Result
Tuesday, 11/03/2020 14:35
GOLD PRICES broke above $1900 per ounce in London trade Tuesday, joining silver and platinum in erasing the last week's drop ahead of tonight's initial results from the hotly-contested and highly fractious US elections.
Breaching what several analysts called that "psychological topside" by $7 as New York opened for business, the yellow metal has now risen 42.7% from
gold's price spike when Trump won
the White House on 9 November 2016, beating Hillary Clinton.
Silver prices today
regained the $24.30 mark, a 7-year high when first reached in July and 27.9% above Election 2016's top.
Platinum meantime showed a loss of 14.2% from 4 years ago, reaching $833 as China's Communist dictatorship announced its new 5-year plan for the world's 2nd largest economy, aiming for new energy vehicles (NEVs) – led by electric but including hydrogen-powered engines, which use platinum as a catalyst in their fuel cells – to account for 20% of auto sales by 2025.
Ahead of today's vote, US gold-price tracker the iShares Gold Trust (NYSEArca: IAU) expanded 0.1% on Monday to a new record size.
But more than twice as large, and having swollen by 42.5% so far in 2020, the SPDR Gold Trust (NYSEArca: GLD) saw its 9th day of net liquidation since the middle of October, shrinking the world's largest
gold-backed ETF
by more than 1.3% from a fortnight ago.
Four years ago the GLD also surged in the 10 months preceding the US election, expanding by 51.1% before shrinking 0.4% in the 2 weeks prior to Trump's victory on 8 November.
Bullish betting on gold prices through Comex futures and options also declined ahead of today's ballot according to the latest data compiled by US regulator the CFTC.
The weekending last Tuesday saw the Managed Money category of Comex gold traders trim their net speculative position to the equivalent of 409 tonnes of bullion, 31.5% below the last 52-week average and more than one-tenth smaller than their betting on the eve of Election 2016.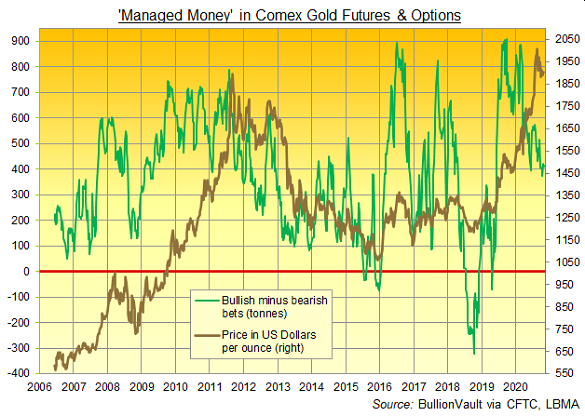 "Nobody is really willing to take stronger positions now and are
just waiting for the results
," said Peter Fertig at Quantitative Commodity Research in Germany ahead of Tuesday's action.
"Participants are still averse to committing one way or the other," agreed brokerage StoneX's Rhona O'Connell in a note, "but the underlying sentiment remains positive, and the election result, when we get it, is likely to be gold-friendly.
"[Expect] a likely weakening Dollar, fresh stimulus, rates in negative territory, and a likelihood that the Fed will start buying longer term assets."
Global stock markets rose sharply ahead of the Trump-Biden result today, as did longer-term interest rates on Western government bonds, while industrial commodities rallied, led by a bounce from 5-month lows in crude oil prices.
China's politburo meantime ordered private traders to halt buying 7 categories of raw materials from Australia, apparently in protest at Canberra barring the state-connected tech giant Huawei from building its 5G network, plus Prime Minister Scott Morrison calling for an independent investigation into the novel coronavirus outbreak officially starting in a 'wet market' in Wuhan.
US tool-maker Stanley Black & Decker Inc. (NYSE: SWK) – whose stock set fresh all-time highs earlier this month – has
shut its factory in Shenzhen
, mainland China's giant manufacturing hub, after 25 years, joining a trend for foreign brands to quit the city as labor and input costs rise amid Beijing's push to replace low-cost with hi-tech goods production.
"Immediately after the announcement, human resource managers and labour agents swarmed the site to recruit laid-off workers to join other factories in the area," says the South China Morning Post.