Rising US Inflation Forecasts See Gold Price Rally from 'Great Entry Point' as Germany Hits Deflation
Tuesday, 9/29/2020 14:16
GOLD PRICES gained on Tuesday as US inflation forecasts rose but interest rates didn't, while latest data from Germany said consumer prices in the world's 4th largest national economy fell into annual deflation last month.
Frankfurt's Dax index of Germany's 30 largest shares fell 0.3% for the day – unchanged from early June after rallying over 40% from March's Covid Crash – after the Federal Statistical Office said consumer prices fell 0.4% last month from September a year ago on its Euro-harmonized methodology, dragged down to the sharpest deflation since start-2015 by falling energy costs and a cut to MwSt sales tax aimed at boosting household spending.
US bond prices, in contrast, saw inflation forecasts rise as the Case-Shiller index of major-city home prices accelerated to the fastest growth since end-2018 at 3.9% per year, and provisional data from the Commerce Department said the
United States' trade deficit in goods
set a new monthly record of $83bn in August.
Expectations for the next 10 years' loss of purchasing power in the US Dollar rose back towards 10%, the deepest such forecast in 4 decades when first reached as gold prices set fresh all-time highs above $2000 per ounce at the start of August.
Trading up to $1885 per ounce on Tuesday, gold priced in the US Dollar meantime rallied 1.8% from yesterday's re-test of Thursday's 8-week lows.
Last Thursday also saw real US interest rates – as offered to new buyers of 10-year Treasury bonds, after accounting for market-based inflation forecasts – hit 8-week highs.
Dollar gold prices have now rallied $35 per ounce since then, while 10-year real yields have retreated back to -0.97%, the most negative since Monday last week and 6 basis points below last Thursday's peak.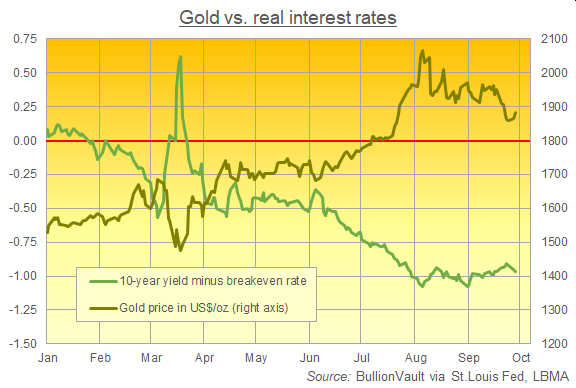 Gold prices were "well supported in early Asian trade" today, says a note from Swiss refining and finance group MKS Pamp, "buoyant above $1880."
This comes after "the yellow metal once again flirted with a break below the $1850 support level," the note goes on, "[but] found strong interest around [that] figure.
"With gold pivoting above $1865 and accelerating gains into [last night's Comex] close, the metal now targets a move through the resistance band at $1895-1905."
Gold has been "correcting and losing some froth, but not crumbling," reckons brokerage StoneX's Rhona O'Connell.
Longer-term, negative real interest rates on bonds and cash make the opportunity cost of holding gold "quite low" he went on.
"Uncertainty over the US election and the Covid-19 pandemic [also makes] gold is a very, very good hedge."
Tuesday's drop in real US interest rates came as 10-year inflation forecasts extended yesterday's rally from Friday's 8-week low of 1.58% per annum, rising to 1.62%.
Interest rates on 10-year US Treasury debt went in the other direction, slipping this morning to their lowest since early September at 0.65% per annum.
Germany's benchmark 10-year Bund yield also fell, slipping back to start-August levels below -0.53% per annum.
Gold priced in the Euro meantime held above €1611 per ounce, almost 8% below last month's new all-time high.