Gold Price Falls, Tesla Plunges as Trump Vows 'Break from China', UK 'Set to Break Law' with New Brexit Plan
Tuesday, 9/08/2020 14:31
GOLD PRICES fell to 2-week lows against a rising US Dollar lunchtime Tuesday in London, falling back below the previous all-time high of $1920 set in September 2011 and trading almost 8% off last month's new record top.
New York stock markets were poised to return from the US Labor Day weekend with another steep drop as electric car-maker Tesla (Nasdaq: TSLA) sank nearly 15% in pre-market trade
after being omitted from inclusion
in the benchmark S&P500 index as some analysts had expected.
"We will make America into the manufacturing superpower of the world," said US President Donald Trump overnight,
vowing to "end reliance on China
once and for all, whether it's decoupling or putting in massive tariffs like I've been doing already."
European stock markets meantime fell over 1.6% on average as a minister in the UK administration of Boris Johnson admitted that the pro-Brexit Prime Minister's plan to over-ride key parts of the Brexit Withdrawal Agreement he signed in January
"does break international law"
while the Government's chief legal advisor quit over the matter.
Like the Dollar gold price, bullion in Euro terms fell near its lowest in 4 weeks at €1620 per ounce – down 7.3% from its record high of 7 August – but
the UK gold price in Pounds
touched 1-week highs above £1470 as Sterling slumped on the currency markets, dropping further from last week's late-2019 highs.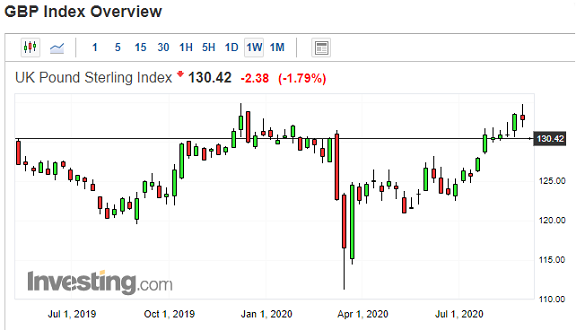 China's benchmark gold price meantime dipped to 2-week lows beneath ¥413 early Tuesday, before edging ¥1 higher per gram at Shanghai's afternoon fix to settle unchanged for the week so far.
Equivalent to $1885 per ounce, that put the price of gold bullion inside the metal's No.1 consumer nation some $48 below comparable London quotes – the narrowest discount since late July.
"
ETF gold
holdings have continued to increase," notes analyst Rhona O'Connell at brokerage StoneX, "albeit at a moderate pace, with only one day of redemptions in the last 15" from exchange-traded trust funds backed by bullion.
Silver-backed ETF trust funds meantime "just had two days of redemption," O'Connell adds, "but net additions in the year to date amount to 8,918 tonnes – equivalent to 15 weeks' demand – so this offtake is really quite significant in terms of the market balance."
Silver prices tracked gold lower towards 4-week lows Tuesday, losing over 12% from last month's spike to 7-year highs but holding the $26 per ounce mark first reached in late-July's surge.
Platinum investment demand is meantime set to total 75% more in 2020 than previously forecast, says the mining industry's World Platinum Investment Council in
its latest quarterly report
.
Together with a 14% plunge in mining and scrap supply combined, that should take the global platinum market into a deficit of 10.5 tonnes for 2020 as a whole, more than reversing the surplus predicted in the early stages of the Covid Crisis even as total demand falls over 11% from last year to 231 tonnes.
Platinum prices
slipped back below $900 per ounce in London trade Tuesday, more than one-tenth below early-August's 6-month high.