Gold Price Loses Bounce After US Jobs Data, Holds 3% Plunge from Records
Friday, 9/06/2019 21:01
GOLD PRICES rallied and then fell back on Friday, first bouncing from multi-week lows against all major currencies only to retreat again as Western stock markets struggled following weaker than expected US job data.
Major government bond prices also bounced from Thursday's sharp sell-off, edging interest rates back down after surging from all-time record lows.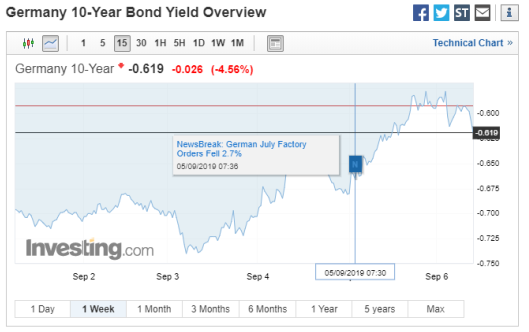 Yesterday saw gold sink over 3% in US Dollar terms after the ADP Payrolls company said the world's largest economy saw better than expected jobs growth last month.
Beijing and Washington also said they will re-start talks to resolve the US-China trade tariffs war in early October.
Both ahead of and then again after the US government's official August jobs estimate on Friday, Euro gold prices traded €50 per ounce below Wednesday's new all-time peak, while
the UK gold price in Pounds per ounce
fell to test August's low at £1220 after jumping 32.1% in 4 months.
Gold priced in the Dollar edged back down to finish US trade at $1505, down more than $50 per ounce from Thursday morning's fresh 6.5-year high.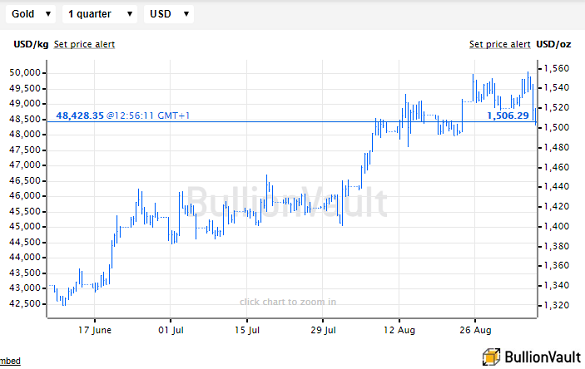 "Heavy losses for the precious as trade tensions appear to ease," says a trading note from Swiss finance and refining group MKS Pamp.
"Gold plummeted to [Thursday's] low of $1506 in early New York hours as equities climbed."
Betting on a half-point rate cut at the Fed's mid-September meeting has evaporated this week from 15% of speculative wagers
according to data
from the CME derivatives exchange.
Wagers that Powell's team will instead make no change – and leave rates at a ceiling of 2.00% – have risen to more than 1-in-8 speculative bets, but the odd-on forecast remains a quarter-point cut.
"Our economy
is very strong
," tweeted US President Donald Trump this morning, quoting celebrity stockpicker Jim Cramer.
"If the Fed would lower rates to where the bond market says they should be, then I really wouldn't worry about a recession."
"A solid economy makes a deal between Washington and Beijing less likely," says a column on Bloomberg – dismissing yesterday's rally in equity markets – because "as long as the economic consequences are manageable ahead of the 2020 election, the pressure on...Trump to offer any compromise is reduced."
Thursday's plunge in precious metals prices coincided with heavy investor selling from gold- and silver-backed ETF trust funds.
The No.1 US-listed gold fund, the GLD, shrank from its largest size in nearly 3 years, losing 6.1 tonnes from Wednesday's peak of 896 tonnes, and iShares' SLV silver product also shrank as investors liquidated stock.
"Thursday's data was [also] positive, causing gold prices to reduce," Reuters quotes Singapore dealer Brian Lan at GoldSilver Central, pointing to the ADP report.
"We now expect a lot of volatility in the gold markets...[But] gold is still seen as a safe haven asset. A correction [was] bound to happen."