US Jobs Data See Gold Price 'Testing 2011 Peak Support' After Snapping 3rd Best Run in 50 Years
Friday, 9/04/2020 14:17
GOLD PRICES sank lunchtime Friday in London, losing almost $20 per ounce inside 10 minutes after new US data said the world's largest economy added 1.4 million jobs in August.
Although in line with analyst forecasts, that figure pulled the US unemployment rate sharply lower, down to 8.4% – the lowest since March – in what the
Bureau of Labor Statistics called
"the continued resumption of economic activity" from the Coronavirus pandemic.
Gold fell to 1-week lows beneath $1925 per ounce, while the US Dollar hit a 1-week high on the currency market.
Real US interest rates
also rose to 1-week highs, with yields on 10-year Treasury bonds lagging inflation expectations by 1.04% per annum, up from the record low of -1.08% first touched as gold set new all-time highs last month.
Nasdaq futures meantime cut earlier pre-market losses after Thursday's near-5% sell off in the US tech-stock index led the steepest fall in New York's wider stock market for nearly 3 months.
"Big numbers are fun,"
says Barron's magazine
, reporting that yesterday's drop in Apple (Nasdaq: AAPL) knocked $180 billion off the iPhone brand owner's value, "the largest one-day loss for any company ever, but still leaving Apple with a market cap of well over $2 trillion."
Despite yesterday's plunge in US equities, "Gold remained soft on Thursday," says a note from Swiss refining and finance group MKS Pamp, "testing support toward $1921" – the metal's prior all-time high of September 2011.
Gold prices have now fallen in 3 of the 4 weeks since the metal set its current all-time Dollar high of $2075 per ounce on Thursday 6 August.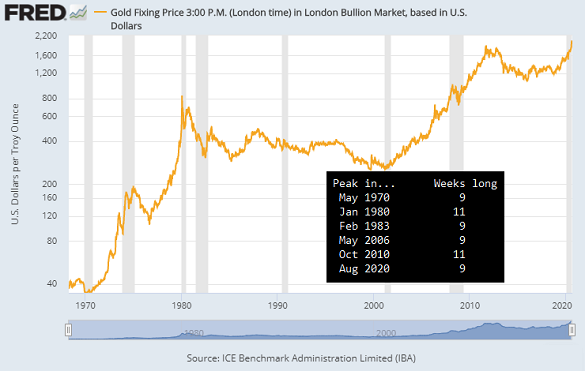 Fall 2010 saw gold priced in Dollars rise for 11 weeks running, after which the metal rose another 40.4% to the September 2011 peak.
Before that, gold prices rose for 11 weeks to the $850 peak of New Year 1980, before sinking by 38.3% over the following 3 months and facing what proved a 2-decade bear market.
Gold prices in No.1 consumer market China today set their lowest weekly close in 7, settling at ¥414 per gram on the Shanghai Gold Exchange.
That still cut the discount for bullion landed in China versus London to less than $54 per ounce, down from the
record Shanghai gold discount
of 3 weeks ago but showing a continued glut of supply over demand.
Prior to the Covid Crisis,
the Shanghai gold fix
– first launched in 2016 – showed an average premium to London of nearly $9 per ounce, offering an incentive to new imports of bullion.
Gold imports into No.2 consumer India meantime
showed a "surprise rebound"
in August, says Bloomberg today, with inflows more than doubling from the same month last year despite continued price discounts to London.
"Clearly," says the newswire, "India's jewellery market is gearing up for festival season despite high gold price" ahead of the key Diwali gold-buying celebrations coming in early November.