Gold Prices Steady at $1500 as Germany's Historic Bund Sale Proves a 'Dud', Trump + Fed Deny Recession
Wednesday, 8/21/2019 14:35
GOLD PRICES
steadied once more around $1500 per ounce in London trade Wednesday – a
new 6-year high
when reached earlier this month – as Western stock markets rallied and bond prices slipped after US President Trump said he's considering fresh tax cuts to stimulate the world's largest economy.
The government of No.4 economy Germany meantime made history by raising a 30-year loan from bond investors at a negative rate of interest, effectively getting paid 0.11% per annum to borrow the money.
But today's auction of new 30-year debt
"was a dud" says one pundit
, after central bank the Bundesbank was forced to step in and buy all but 41% of the €2 billion of new Bunds on offer.
Starting New Year 2019 at 0.85% per annum in the secondary market, the yield offered to buyers of 30-year Bunds sank to -0.30% last Friday, while 10-year yields hit a new low of -0.71% per annum.
Gold today fell back at first with government debt prices in Asian trade, slipping 1.2% lower for the week so far in Euro terms at €1350.
Last Friday's afternoon benchmarking in London came just €10 per ounce below the all-time record weekly close of €1377 in mid-September 2012.
The Frankfurt stockmarket set a series of new all-time highs in 2017 and 2018, but has fallen in 2019 so far as German Bund prices have soared and yields have sunk.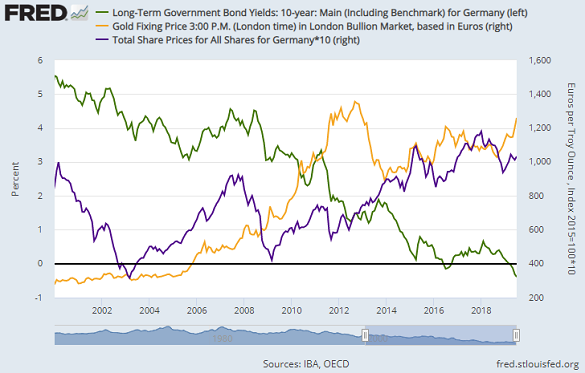 Italy's debt prices meanwhile held firm despite the Prime Minister resigning in Parliament on Tuesday after the ruling coalition's right-wing deputy Matteo Salvini tabled a motion of no-confidence – an "irresponsible act for personal and party interests" according to the outgoing Giuseppe Conte.
With Milan's main stock index joining other European markets in a 1.3% gain, that held Rome cost of borrowing, over and above Germany's, around 14-month lows of 2.0 percentage points, because "The
markets are confident of a solution
to the crisis," says financial paper
Il Sole 24 Ore
.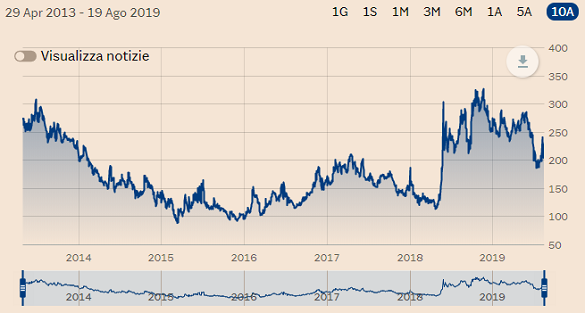 Betting on US interest rates meantime on Wednesday showed a small wager for the first time this month that the Federal Reserve will make no change to its key policy rate at the September meeting, according to data from the CME derivatives exchange.
Betting on a half-point cut in contrast evaporated after 2019 non-voting member Mary Daly of the San Fran branch said overnight that she
doesn't see a US recession ahead
.
"My support for the cut [made at the Fed's most recent meeting] is based around my desire to see our economic expansion continue," she wrote on Quora.com, "not because I see an impending downturn on the horizon."
After approving $1.5 trillion of tax cuts on entering the White House in 2017, "We're looking at various tax rate deductions but I'm looking at that all the time," said Trump to reporters late Tuesday.
But unless the Fed cuts its short-term rate so aggressively that "the yield curve steepens" from its recent inversion – an historically proven recession warning – "[it] risks the 10-year US Treasury [yield] remaining on
the well-worn path of Japan and Germany
toward zero," reckons US investment bank J.P.Morgan's head of fixed income Bob Michele.
Gold priced in the British Pound was also little moved on Wednesday, holding a 2.7% drop from last week's new record of £1271, as new UK Prime Minister Boris Johnson met with Germany's Chancellor Angela Merkel to ask that negotiations for a Brexit deal are re-opened so that the Irish backstop is dropped.