UK Gold Prices Set New All-Time Record as Stock Markets Rise Ahead of the Fed
Friday, 7/26/2019 13:44
GOLD PRICES rallied from yesterday's pullback in London on Friday, heading for a small weekly gain versus most major currencies except the US Dollar and Chinese Yen as world stock markets rose following Wall Street's fresh all-time intraday records.
With just 4 of
London's daily gold price benchmarking
left before August – and with the US Federal Reserve expected to make its first cut to interest rates since December 2008 next Wednesday, 31 July – this month currently shows the highest average gold price in US Dollars since May 2013 at $1410 per ounce.
Euro gold prices show the highest month average since January 2013 at €1255, briefly touching 2012 levels at €1290 on Thursday after
the European Central Bank said it's ready
to cut its key interest rates further below zero and expand its QE asset purchase scheme.
Trading at £1143 this Friday lunchtime in London however, gold priced in British Pounds was on track for its 1st weekly drop in 12.
Only a rise of £5 before the City's 3pm benchmark auction would extend gold's run to its second longest in history for British investors.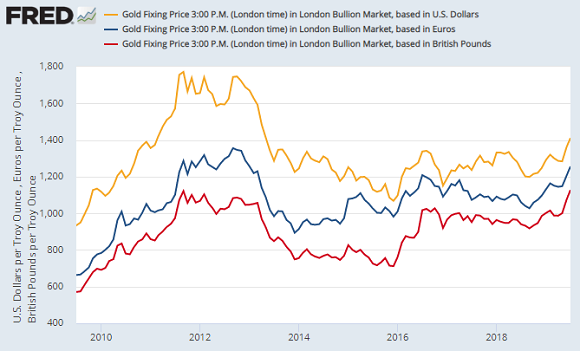 Shanghai gold prices had earlier edged lower to ¥315 per gram at China's official benchmarking, slipped 1.7% from last Friday's finish.
But that held the premium for bullion bars landed in China - the metal's No.1 mining, importing and consumer nation – at a strong $13 per ounce above London quotes, some 45% greater than the typical incentive for new shipments.
China's imports of gold bullion via Hong Kong – formerly its only conduit, but since overtaken by direct shipments – fell by more than one-third last month from May's level as prices hit multi-year highs in June, Reuters reports, citing "a seasonal slowdown in the jewelry industry".
India's gold and jewelry industry – now hit by record-high Rupee gold prices after the Modi Government's shock rise in bullion import duty to 12.5% – today called for a "crackdown" on dealers selling low-carat bars as top-rated 99.5% pure gold.
"In the past few years," said IBJA chairman Prithviraj Kothari, "jewelry manufacturers have been complaining about impure bars being passed off as 24 carat (995), and the complaints have increased of late."