Gold Prices Firm, Silver Extends Gains as US Fed Tries to Rein Back Rate-Cut Expectations
Monday, 7/22/2019 13:50
GOLD PRICES edged higher on Monday as market expectations for a deep US cut to interest rates eased back and oil prices gained on worsening tensions with Iran in the Persian Gulf, writes Atsuko Whitehouse at BullionVault.
Trading at $1425 per ounce, gold prices held onto last week's 0.7% gain Monday lunchtime as the Dollar index (DXY) of the US currency's value on the forex market also edged higher.
Gold jumped last Thursday to $1452 per ounce, a new 6-year high, following dovish comments from New York Fed President John Williams.
"The possibility of a 50 basis points cut has almost dissipated following the WSJ report and the New York Fed's attempt to tone down earlier comments by Williams," says Kenji Yamamoto, economist at Daiwa Securities.
Betting that the Federal Reserve will cut a half-point off short-term Dollar interest rates in its 31 July decision retreated further on Monday, falling below 25% of
speculative trading on CME futures
after hitting 28% this time a month ago.
Ahead of last week's gold price spike, the total number of Comex gold future and option contracts open across the market reached the biggest ever,
according to the latest data
compiled by regulator the Commodity Futures Trading Commission (CFTC), holding above 1 million for a 4th week.
Last time the size of open interest in gold derivatives exceeded 1 million was in September 2011, whe gold's decade-long bull market peaked at $1920 per ounce.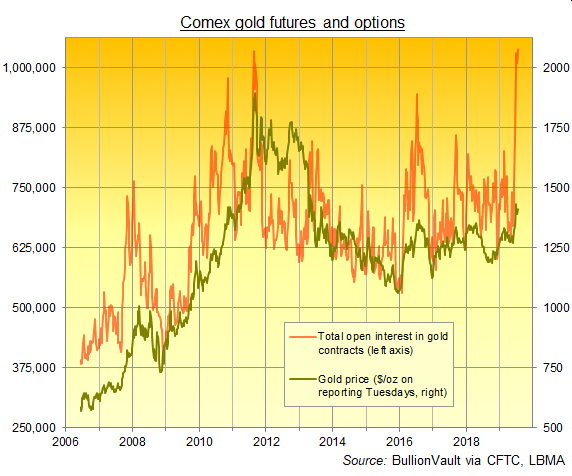 While hedge funds and other leveraged speculators in Comex gold futures and options built their net bullish position as a group by 1.3% in the week-ending last Tuesday, that same Managed Money category grew its net bullish position on Comex silver futures and options by 81.7%, taking it to the largest in nearly 5 months.
Silver prices rose some 1.0% by Monday lunch time, extending last week's 6.4% gain but holding 20 cents below Friday's 5-month high of $16.58 per ounce.
Platinum prices edged higher at $850 per ounce after touching a 2-month high at the end of last week.
Friday also saw the world's largest gold-backed ETF – the SPDR Gold Trust (NYSEArca: GLD) – expand by 0.7% to its largest size in 2 months as investor demand grew the number of shares in issue.
Oil prices rose more than 2% Monday morning on concerns that Iran's seizure of a British tanker last week may lead to supply disruptions in the energy-rich Gulf.
Large supplier Libya also faces output disruptions after the country's largest oil field was shut down by an unidentified group.
Gold prices for UK investors
rose 0.3% to £1143 per ounce as Sterling declined on the FX market ahead of the Conservative leadership decision, with the UK's new prime minister set to be announced on Tuesday.
Euro gold prices also rose, edging higher to €1270 per ounce while European shares held flat as traders looked ahead to this week's meeting of the European Central Bank.
Asian shares were lower on Monday while shares on a new Nasdaq-style technology board on the Shanghai Stock Exchange surged up to 520% in their trading debut.
China on Monday criticized a weekend demonstration in which eggs were thrown at its office in Hong Kong, accusing the demonstrators of violence without mentioning a violent attack against protesters and civilians the same night.
The men – dressed in white shirts and
suspected to be triad gangsters
– assaulted pro-democracy protesters and passers-by in the Yuen Long area of Hong Kong.