Gold Price Slips as Euro and UK Stock Markets Slide on Deeper Covid Recession Forecasts
Tuesday, 7/07/2020 14:08
GOLD PRICES slipped back against most major currencies on Tuesday, trading $10 per ounce below last week's new 8-year peak of $1789 as world stock markets also retreated amid worsening Covid-19 infection rates and new forecasts for a deeper 2020 recession for No.2 economic bloc, the Eurozone.
European stock markets fell hard, losing over 1.2% by lunchtime in London on the EuroStoxx 600 index and 1.6% on London's FTSE100.
"The lifting of lockdown measures is proceeding at a more gradual pace than assumed in our Spring Forecast,"
said the European Commission
this morning, deepening its full-year forecast to an 8.7% contraction for the 19-nation Eurozone and an 8.3% drop across the wider European Union "despite the swift and comprehensive policy response at both EU and national levels."
Set to leave the EU entirely at the end of December, the UK economy will shrink by 9.7% this year, the EC now forecasts.
Today's retreat in gold prices put the metal around 3% below mid-May's new all-time highs for both UK and Euro investors.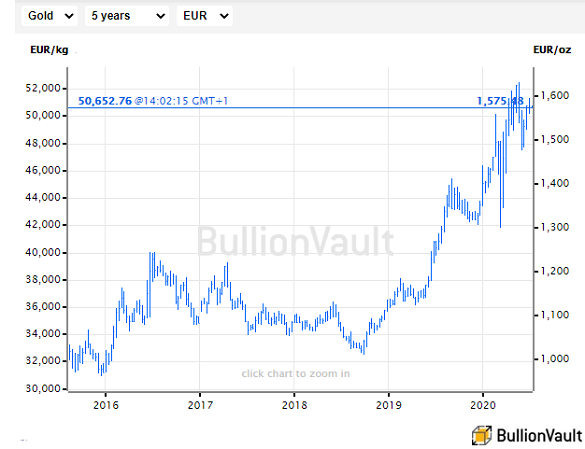 Joint stimulus for the remaining 27 members
continues to meet political opposition
meantime, with the Commission's proposal for a 7-year budget of €1.1 trillion – including a €750bn recovery fund financed by raising debt directly from investors by selling EU bonds – still having a "long way to go" before agreement can be reached at a meeting of finance ministers next week, according to one un-named official.
"It was the compromise between the politicians over this potential extra €750bn funding that took $40 off gold in early June," notes Rhona O'Connell, head of market analysis outside the US for brokerage StoneX.
"Now of course the situation is different, with the increased prospects of a second wave keeping the gold price relatively buoyant in the face of a near non-existent physical market in Asia."
Gold prices in China – the metal's No.1 consumer nation since overtaking India in 2013 – today held 0.7% below last week's new record high of ¥400 per gram after the Chinese currency rose at its strongest 1-day pace since December.
"Clearly we have an improvement in global risk appetite," Reuters quoted one strategist overnight after Beijing's state-owned Securities Journal urged private savers to buy equities – a move which "encouraged the national team" and drove a 5.7% jump in the CSI300 index,
"We have the Fed
to juice bull markets
, China has its state media," says investment strategist Peter Boockvar at the $3.5bn Bleakley Advisory Group, pointing to the US central bank's unprecedented monetary stimulus.
The Shanghai-Shenzhen stock market edged higher again on Tuesday, taking it over 14% higher from this time last week.
The rising Yuan – trading at 3-month highs better than ¥7 per Dollar – today helped cut the discount for gold bullion landed in China to $20 below London quotes.
That still contrasts with a typical premium of $9 per ounce prior to 2020, and suggests very weak local demand versus supply.
Gold discounts in India last week averaged $21 per ounce after accounting for the country's 12.5% import duty, according to data from Reuters.