'Tailwinds' for Gold Price from Rates Below Inflation, Central Banks Buying
Monday, 7/05/2021 15:02
GOLD PRICES firmed near 2-week highs Monday in London after long-term interest rates slipped further below inflation forecasts while new analysis said healthy central bank gold demand continued in May, writes Atsuko Whitehouse at BullionVault.
With the US markets shut for Independence Day, spot gold prices edged higher by 0.2% to $1791 per ounce after touching $1795 last Friday, the highest since mid-June, on
mixed US payrolls data
.
That came however after the yellow metal suffered its worst month since 2016 by falling 7% in June on signs that
the Federal Reserve may start to tighten
its massively accommodative monetary stimulus sooner than previously said.
"Last week's payroll numbers provided a lot of mixed signals and the data wasn't solid enough to move that Fed needle," an analyst says to Reuters of the US central bank's likely view on raising rates from zero or tapering its current $120 billion per month of new QE bond purchases.
"While real interest rates are negative gold has tail winds rather than head winds; there is still a lot of liquidity looking for a home and gold – it must always be remembered – is a hedge against risk, not just inflation," says analysis from Rhona O'Connell at brokerage Stone X Group Inc.
Real interest rates on inflation-protected US Treasury bonds fell to minus 0.915% last Friday, while the implied rate of inflation across the next decade reached 2.35% per annum, a 3-week high.
Week-to-week, gold prices have moved in the opposite direction to 10-year TIPS yields
two-thirds of the time
across the last 5 years.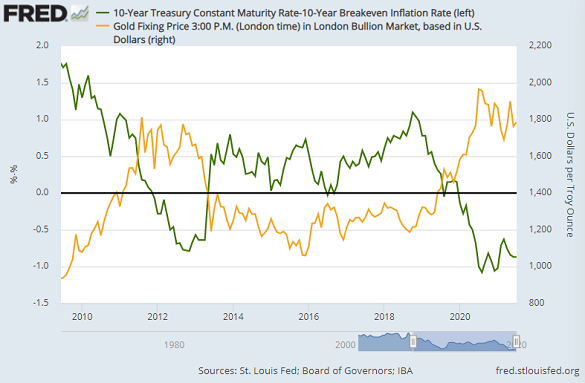 "Long term, gold is the most significant guardian and guarantor of protection against inflationary and other forms of financial risks," says the National Bank of Serbia.
Serbian President Aleksandar Vucic recently announced the central bank intends to boost holdings of the precious metal to 50 tons from 36.3 tons.
Central banks net purchases totalled 56.7 tonnes in May, although it was down 11% comparing to the previous month but 43% above the monthly average in 2021, according to
the latest report published last Friday
by World Gold Council.
Thailand was the biggest buyer, adding a further 46.7 tonnes in May after buying 63 tonnes in March and 43.5 tonnes in April.
Turkey, gold's No. 5 consumer nation, also added 8.6 tonnes, while India, the No. 2 bullion consumer nation, also bought 0.9 tonnes. Brazil, Kazakhstan, and Poland were the other notable buyer during the month.
"The recovery in global trade is bolstering the current accounts of emerging market nations, giving their central banks the option of buying more gold," according to James Steel, chief precious metals analyst at HSBC Holdings Plc.
"Higher crude prices are also boosting bullion purchases by oil exporters, including Kazakhstan and Uzbekistan. That's likely to continue."
Crude oil prices were hovering near 2.5-year highs on Monday morning, hitting $75 per barrel as the so-called Opec+ cartel of producer nations failed to reach an output agreement at Friday's meeting.
The discussion continued today with Saudi Arabia apparently arguing with the neighboring United Arab Emirates over not agreeing to cap its production for the coming months and into 2022.
Prices for silver
, primarily an industrial metal, rose 0.5% to $26.58 per ounce today, extending its 1.1% weekly gain.
Platinum, which finds two-thirds of its demand from industrial uses, rose further by 1.2% to $1105, erasing three quarter of the loss made last week.
US stock and bond markets are closed for the July 4 Independence Day holiday.
The Dollar Index – a measure of the US currency's value versus its major peers – meantime added to Friday's losses from its new 3-month high after the latest non-farm payrolls data said the US economy added 850,000 jobs in June but the jobless rate ticked higher to 5.9%.