Gold Price Rallies Near 6-Year Highs as Japan-Korea Join Trade War, Beijing Slams Hong Kong Vandalism
Tuesday, 7/02/2019 14:07
GOLD PRICES again tried to rally on Tuesday after falling almost 4% from last week's new 6-year high on news of a temporary ceasefire in the US-China trade war.
A new front opened up however between Japan and South Korea over chemicals needed for digital technology, while crude oil eased back from its recent jump and bond yields also fell further after new data Monday said US manufacturing growth remained very weak in June, with prices paid by factory managers falling for the 3rd month so far in 2019.
US Dollar investors again saw gold rise to briefly half yesterday's opening plunge, touching $1395 before easing $5 lower.
Asian and European stock markets meantime struggled to extend yesterday's jump, but best-performing was Hong Kong's Hang Seng index, reopened after Monday's holiday to mark the anniversary of Britain's handover of the city state to China saw unprecedented violence by protesters against what they call Beijng's encroaching authoritarianism.
Hong Kong chief executive Carrie Lam said she was "outraged" and will "pursue violent protestors to the end, while
China's state-run media
today showed photos of the damage, apparently "seizing on the chaos" according to US media group Bloomberg "to bolster its long-held arguments about the potential for democracy to cause instability."
Mainland Chinese gold prices meantime recovered from Monday's steep plunge from new 6-year highs, rallying 0.6% at Shanghai's afternoon fix.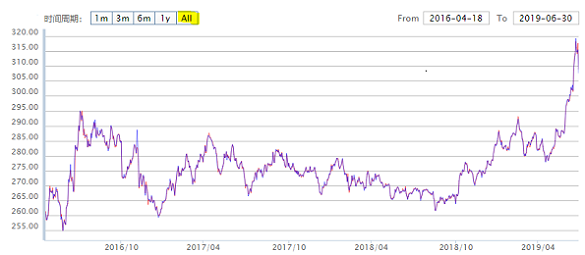 Together with continued strength in China's Yuan against the Dollar on the currency market, that raised the incentive for importing bullion into the world's No.1 consumer nation to $12.50 per ounce above quotes in London, the world's central trading and storage hub.
With Yuan prices already rising 3.5% in May to reaching 3-year highs, the Shanghai Gold Exchange saw "speculative investment up, physical demand down" notes Ray Jia, Research Manager at the mining-industry's World Gold Council,
analyzing that month's divergence
in trading volumes between 2 key contracts.
Trading volumes in the Au(T+D) contract – needing only a 7% downpayment and with the option of deferred settlement – rose nearly 29% from May 2018.
But the less heavily traded Au9999 contract for physical delivery of gold saw volume drop almost 24% from a year earlier, falling towards one of the weakest monthly turnovers of the last 3 years.
"Investors usually choose Au(T+D) to magnify expected returns," says Jia. "On the other hand, the Au9999 contract is designed to meet physical demand."
Expressing the politburo's "
strong dissatisfaction and resolute opposition
" to outside nations' "interference in Hong Kong affairs," Beijing said the violence was an attack on the 'two systems, one nation' settlement agreed with the UK for the 1997 handover of power, and also demanded that the local authorities restore the 'rule of law' immediately.
"Hong Kong is (physically) quiet, calm and totally safe for visitors," says the
independent Inkstone blog
. "[But] of course, the mood is anything but."
Invaded and vandalized on Monday night, the Legislative Council "has been designated a crime scene" where protesters defaced Hong Kong's official flower emblem (risking a maximum 3 years in prison), tore up a copy of the city's Basic Law constitution, and draped a British Hong Kong flag over the LegCo lectern.
European and Russian officials meantime urged Iran to avoid inflaming tensions with the US still further after Tehran declared it has enriched
stockpiles of uranium breaching limits
agreed in its 2015 nuclear non-profileration deal – a move called "playing with fire" by US President Trump.
Starting Thursday, Tokyo will restrict exports to neighboring South Korea of chemicals and material vital to making semiconductors and display screens in retaliation for court rulings in Seoul
ordering Japanese firms to pay compensation
over using forced labor in the peninsula during WW2.
"With South Korea," says a Tokyo official, "trust in export control has been undermined."
Over in New York, both the giant GLD and lower-cost IAU
gold-backed ETF trust funds
expanded as prices fell on Monday, bucking their more typical pattern of growing or shrinking in line with bullion prices.