Gold Prices -2.5% from 6-Year Spike, Cash-for-Gold Sales Jump as India Demand -10%
Wednesday, 6/26/2019 14:43
GOLD PRICES extended their drop from yesterday's new 6-year highs to 2.5% in London trade Wednesday, retreating to $1402 per ounce as the Dollar bounced on the currency market.
This month's 10.4% surge in gold prices – the 5th strongest of the last decade – has seen a surge in scrap gold sales, claim New York dealers Empire Gold, back to the strongest levels since the peak of $1900 per ounce in 2011.
US scrap buyers Cash4Gold enjoyed such success a decade ago, they
famously sponsored
a half-time TV ad during the 2009 Superbowl.
The giant GLD gold ETF yesterday shrank back as investors sold, edging beneath 800 tonnes to need 2 fewer tonnes of bullion to back its shares in issue
after last week's spike
.
Asian stock markets fell overnight, following Wall Street lower, while
European equities
held flat after 3 days of losses.
Despite edging back yesterday – and despite the US Federal Reserve failing to cut interest rates last week, choosing to "stick, like a stubborn child, when we need rates cuts & easing" according to President Donald Trump – the S&P500 index remained on track Wednesday for its 8th strongest monthly gain of the last decade, up 6.0% from the end of May.
Stock Market is heading for one of the best months (June) in the history of our Country. Thank you Mr. President!

— Donald J. Trump (@realDonaldTrump) 25 June 2019
Trump meantime threatened Iran – the world's No.5 oil producer – with "
obliteration
" for a third day running overnight, responding to Tehran leader Ali Khamenei calling him "outrageous and idiotic...afflicted by a mental disorder."
Crude oil whipped nearly 2% higher, briefly rising above $59 per barrel of US benchmark WTI for the first time this month and gaining 15.6% from mid-June's 5-month lows.
Ten-year US Treasury yields meantime crept back above 2.00% – the lowest interest rate offered to investors since Donald Trump won the White House in November 2016 – as bond prices also retreated alongside gold.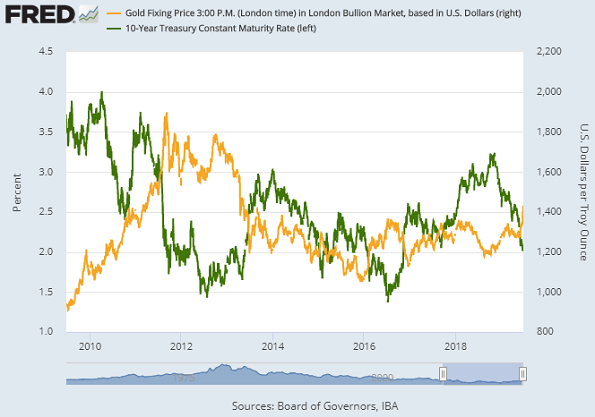 The surge in gold prices "is a combination of the shift in central-bank policies,
not just the Fed
but globally, as well as a mix of trade and geopolitical risks," says bullion bank HSBC analyst James Steel.
"Put those things together, and it's a nice cocktail for gold to go higher."
After Norway last week became only the second central bank this month to raise rather than hold or cut interest rates, Iceland today cut its key rate to a new all-time low of 3.75%.
Betting that the US Fed will hold its key interest rate at the current ceiling of 2.5% has sunk from odds of 4-in-5 to zero over the last month,
according to data
compiled by derivatives exchange the CME.
Betting on December's Fed meeting now sees a 2-in-3 chance that rates will end 2019 below 1.75%.
Over in India – now the gold market's No.2 consumer nation, overtaken by China – "Of late customers are not used to such a jump in prices,"
Reuters quotes
Anantha Padmanabhan, chair of trade body the All India Gem & Jewellery Domestic Council (GJC).
"They will not raise allocations to buy gold just because prices have risen. Volume-wise demand will drop 10% from last year."
This rally in Rupee gold prices towards fresh all-time highs "may coax investors missing from India's bazaars to once again buy coins and bars [but] not jewelry," says Bloomberg, quoting Ketan Shroff at Mumbai dealers Penta Gold Pvt. and a former joint-secretary of the India Bullion and Jewellers Association (IBJA).
"The whole world is getting bullish on gold now because of the economic and geopolitical tensions."
After new US data showed a sharp and surprise fall in sales of new homes on Tuesday, today's releases said orders for durable goods shrank by 1.3% last month, led by a fall in transportation orders.
The ratio of new public debt to GDP in Italy, the 19-nation Eurozone's 3rd largest economy, was meantime revised up to 4.1% for Q1, bursting through the European Union's limit for member state deficits.
Italy's official data agency Istat said last week that
it sees a 65% chance
of Q2 GDP growth ending negative.
Borghi said in February
that "We do not want to sell a gram of gold," but just establish the Italian people's ownership of it, rather than the BankItalia.
Meantime in London, Bank of England Governor Mark Carney "
raised an eyebrow
" about likely new Prime Minister Boris Johnson's claim that GATT24 rules could see tariff-free trade continue between the UK and European Union states after Brexit, currently set for October 31.